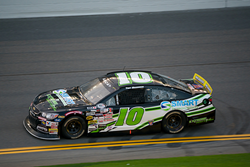 "Extreme Energy Solutions is proud to partner with Tony Mrakovich in his leap and debut into NASCAR's Xfinity Series," said Samuel K. Burlum, CEO/President of Extreme Energy Solutions, Inc. "
CHARLOTTE, N.C. (PRWEB) April 11, 2018
The emerging green tech company, Extreme Energy Solutions Inc., and race car driver Tony Mrakovich partner for a second time in 2018. This time, the racing campaign consists of both sponsor and driver debut in NASCAR's Xfinity Series, making their first appearance behind the wheel of JGL Racing equipment at Bristol, scheduled for Saturday, April 14, 2018; for the Fitzgerald Glider Kits 300. Mrakovich and Extreme agreed to a short term two-race deal after driver and sponsor made an attempt at the 2018 ARCA season opener at Daytona.
Mrakovich will be piloting the number #28 SMART Emissions Reducer by Extreme Energy Solutions sponsored Ford Mustang; supplied and prepared by JGL Racing of Denver, North Carolina. The green tech's other product, Extreme Kleaner, will also be featured on the car. Mrakovich will make a second NASCAR Xfinity appearance in just a few weeks at Richmond, for the ToytotaCare 250, Friday, April 20th, 2018.
"This is one of the toughest tracks on the circuit. Some of the sport's most prestigious names have gone to Victory Lane here, so if you can have a good day at Bristol, you've accomplished quite a feat. I'm so thankful for Extreme Energy's support on this journey and for the opportunity to run my first Xfinity race with JGL Racing," contributed Mrakovich.
Elizabethtown, Pa. native carried the Smart Emissions Reducer colors in the ARCA season-opener at the Daytona International Speedway. Mrakovich was on the verge of breaking into the top 10 in the late stages of the race when a mechanical failure relegated him to 29th place. Still, the 19-year-old gained valuable experience to face his next challenge.
"Daytona was disappointing for sure," recalled Mrakovich. "We had a fast car and a shot at a solid finish, but at the end of the day, it's about gaining experience. While Bristol is about as different as you can get from Daytona, I can still apply the lessons I learned."
"Extreme Energy Solutions is proud to partner with Tony Mrakovich in his leap and debut into NASCAR's Xfinity Series," said Samuel K. Burlum, CEO/President of Extreme Energy Solutions, Inc. "He has demonstrated that he has what it takes to compete on and off the track and he is a great steward of the sport. We are looking forward to a long-term relationship of having Mrakovich as one of our leading brand ambassadors for our company."
In addition to working with Mrakovich, Burlum also understands the benefits of introducing the Extreme Energy brand to NASCAR's national platform and partners. "As much as we look forward to working with Tony, we are also excited about the many opportunities which the world of auto racing can afford to our business, and understand the value of branding our automotive technology and green consumer products throughout the racing community and beyond."
JGL Racing owner James Whitener is happy to have Mrakovich and EES onboard. "Tony is a talented young driver with a lot of potential and we're looking forward to giving him the opportunity to compete in his first Xfinity race. We think EES is going to be a great partner with our team and NASCAR is a perfect fit for raising brand awareness for the SMART Emissions Reducer."
Extreme Energy Solutions is the provider of the clean tech, green tech engine-vehicle emissions reduction technology known as the SMART Emissions Reducer. Founded in 2008 as a third party testing and research consulting firm; Extreme Energy Solutions Inc. has evolved into becoming a developer, manufacturer, distributor, and service provider for technologies and products aimed at reducing toxic harmful engine emissions (for both gasoline and diesel powered engines) including the SMART Emissions Reducer and E-Missions Automotive Intelligence.
Extreme Energy Solutions also offers a line of green eco-friendly consumer products; Extreme Kleaner, H2O Energy Flow, and Extreme Xtra Fuel Treatments; found in selected hardware stores, auto parts stores, grocery markets, and specialty retailers coast to coast in over 500 store locations; including Street Stores Hardware, in Middletown, Pennsylvania, the very store Mrakovich's family owns and operates.
Coverage for the Fitzgerald Glider Kits 300 will begin at 1:00 p.m. Eastern on Saturday, April 14 and will be televised on FS1.
For more information about Extreme Energy Solutions, visit http://ExtremeEnergySolutions.net