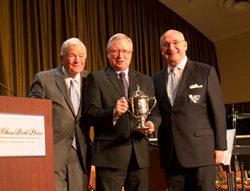 "Through his service, Gen. Grass elevated the National Guard in its mission to serve both community and country," said MMA President Tony McGeorge. "Through his example, we hope to inspire our cadets to raise their own aspirations of leadership."
MEXICO, M.O. (PRWEB) April 12, 2018
Retired U.S. Army Gen. Frank J. Grass received the 2018 Gen. Clifton B. Cates "I Will Hold" Award for Leadership at the Missouri Military Academy (MMA) Maroon and Gold Gala April 7, 2018, at the Chase Park Plaza in St. Louis.
Grass served as the 27th National Guard Bureau chief and as a member of the Joint Chiefs of Staff from September 2012 to August 2016. In this capacity, he acted as a military advisor to the president, secretary of defense and National Security Council and was the Department of Defense's official channel of communications to governors and state adjutants general on all matters pertaining to the National Guard.
"Gen. Grass's leadership helped to elevate the National Guard in its mission to serve both community and country, and for our MMA cadets, he is an outstanding role model," said MMA President Charles "Tony" McGeorge. "By honoring him through this award, we hope to recognize the key service the men and women of the National Guard provide our nation and inspire our cadets to elevate their own aspirations of leadership."
During his career, Grass was responsible for ensuring that the more than 450,000 Army and Air National Guard personnel were accessible, capable and ready to protect the United States and to provide combat forces to the Army and Air Force. He retired September 1, 2016, after nearly 47 years as a soldier.
The 2015 recipient of MMA's "I Will Hold" Award, former U.S. Sen. Christopher "Kit" Bond introduced Grass at this year's event.
Other special guests included Maj. Gen. Stephen L. and Katie Danner, U.S. Army, Missouri National Guard; Brig. Gen. David L. and Sandy Boyle, U.S. Army, Missouri National Guard Support; Lt. Col. T. Scott and Lisa Zimmerman, U.S. Army, current president of Missouri National Guard Association; and Dr. Joel D. Denney, executive director, Missouri National Guard Association. In addition, the following Missouri state leaders attended the event: Lt. Gov. Michael and Teresa Parson, Rep. Steve and Carolyn Hobbs, Sen. Jeannie Riddle and Sen. Wayne and Suzy Wallingford.
Established in 2014 in commemoration of MMA's 125th anniversary, the "I Will Hold" Award is named for Gen. Clifton B. Cates, a 1910 graduate of MMA. Cates led a distinguished military career and served through several major conflicts, including World War I, World War II and the Korean War. He eventually became the 19th commandant of the Marine Corps and is well known as the man who fought Congress to save the U.S. Marine Corps from possible extinction in 1951, which paved the way for the USMC's growth and prosperity.
The 129th Corps of Cadets is the student body of the Missouri Military Academy, a college preparatory boarding school with a military tradition located in Mexico, Missouri. MMA's 360˚ Education® fosters academic excellence, character development and leadership training in a safe, structured environment for boys from around the world in grades 7 through postgraduate. For more information, visit MissouriMilitaryAcademy.org.