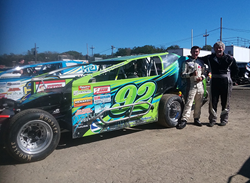 "Vigh has been a great representative of our products and of the sport. He has stayed committed to our program and has helped our company on and off the track." - Samuel Burlum, President/CEO of Extreme Energy Solutions
MIDDLETOWN, N.Y. (PRWEB) April 20, 2018
Entering their third season of driver, team, and sponsor partnership; Extreme Energy Solutions revs up its motorsports marketing campaign with Tommy Vigh Jr. as their lead driver again behind the recognized #92 Extreme Kleaner-Extreme Energy Solutions Sportsman, slated for a full scheduled at the Orange County Fair Speedway (Middletown, NY); known as the Hard Clay; partial schedule at Accord Speedway (Accord, NY) and Bethel Motor Speedway (White Lake, NY); and is scheduled to compete in the Brett Dayo's Super Dirt Series Sportsman Division North and South Tours.
Vigh will also pilot the #H20 H2O Energy Flow-Extreme Energy Solutions Small Block Modified once ready for the track. Vigh finished 15th in Sportsman Division at the OCFS in 2017; and finished 8th in 2017 Eastern States Weekend Sportsman race. For most of the 2017 Vigh was a regular in the top ten ranking for points in the same division. Vigh has been Extreme Kleaner's and H2O Energy Flow's Brand Ambassador to the motorsports community.
"Vigh has been a great representative of our products and of the sport. He has stayed committed to our program and has helped our company on and off the track. We appreciate his ability to assist with sharing the message of the value our products and company with the racing community, its fans, and other interested businesses," Burlum added.
"This is the most aggressive schedule I would have raced to date; and I am looking forward to getting the Extreme Energy Solutions name out there. I am grateful for the opportunity Samuel and the company has made available to me," praised Vigh.
Returning to Extreme Team Racing Associates is Rising Star Connor Otten. Otten has wheeled the #11 Smart Emissions Reducer-Extreme Energy Solutions Sportsman at the OCFS on Saturdays; finishing 20th in points and leading to a 7th place finish at Eastern States Weekend 2017. Otten has also been seen at Accord and Bethel Motor Speedway; and selected Super Dirt Series races. Otten will continue to be a teammate with Vigh, mimicking the same the same race schedule in 2018. Otten will again be representing the SMART Emissions Reducer as the banner on his ride seen here: https://www.youtube.com/watch?v=KT80ftMB06E
"We were able to work out many of our growing pains and had some great finishes in 2017. I would really like to win a few putting the #11 SMART Emissions Reducer-Extreme Energy Solutions in Victory Lane this season," says Otten, "They have been really good to us and deserve getting some checkered flags."
Extreme Energy Solutions is renewing its relationship with Hall of Famer and track Champion Jeff Heotzler.. Heotzler's machine to display the main logo of Extreme Energy Solutions in the Big Block Division for 2018 at OCFS. Heotzler represented the company in 2017 by parking his big block in Victory Lane, picking up his 51st career win at the speedway.
Electing to make a few special appearances and driving an Extreme Energy Solutions supported car, will be Tony Mrakovich; the young driver from Elizabethtown, PA. Mrackovich comes from a legend car background; and as of recent has made driving appearances in ARCA and made a NASCAR Infinity Series Debut in 2018. Mrakovich has competed in selected events in 2017; and made his ARCA Daytona debut this past February, where he had teamed up with Fast Track Racing, led by Andy Hillenburg; and Extreme Energy Solutions as his sponsor.
Mrackovich made his first at the Orange County Fair Speedway, with an attempt to race his way into the 2017 Eastern States Weekend Sportsman Division, wheeling an Extreme Energy Solutions supported car. Mrakovich will drive the #10 SMART Emissions Reducer-Extreme Energy Solutions Sportsman in the Rookie Division on selected dates yet to be announced.
Extreme Xtra Fuel Treatments-Extreme Energy Solutions will be supporting Team Weslowski, as part of a new driver development-team alliance agreement between Extreme and car owner Mike Weslowski. The car will adorn the #22. Mrakovich will also spend some time in the #22 for selected events.
"We wanted to create another pathway for young drivers to obtain seat time, and so we decided to enter into a pilot program, working with a team that would help us with provide support to young drivers that aim to build a career in the sport," continued Burlum.
Extreme Energy Solutions will also debut its latest brand, E-Tech Performance and E-Missions Automotive Intelligence with the Johannessen Brothers, including Keith, Shawn and Steve, as they will present these brands on their rides for the 2018 season at the OCFS. E-Tech/E-Missions is the company's latest technology offering for vehicle-engine emissions diagnostics and repair platforms.
The Green Tech Company, Extreme Energy Solutions, Inc., located in Sparta, New Jersey, entered the venue of racing for the purposes of providing a testing platform for Extreme Energy Solutions products. Since incorporating a motorsports marketing program behind its consumer product offerings, Extreme Energy Solutions has seen a rise in partnered retailers that offer its products.
"Our company focuses on the business to business relationship opportunities, as many of our desired potential clients are involved in the racing community. We have found that the avid fan and potential consumer love the brand culture for our products that is a result of being part of the competitive nature of the world of racing. We welcome new business to business partners that would like to be co-branded with our products, as racing has become one of the most premier medias for reaching shared audiences," concluded Burlum.
Orange County Fair Speedway host its season opener on Saturday, April 21, 2018. For more information visit http://ExtremeEnergySolutions.net