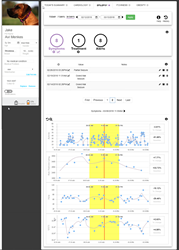 Leveraging the data collected by the dog's smart collar and using machine learning and big data models holds a great promise for the future of medical care.
BURLINGTON, Mass. (PRWEB) April 10, 2018
PetPace, the world leader in wearable technology for pets, today announced a new objective, innovative and automated program that allows pet owners, for the first time, to examine how pet biometric data changes in relation to seizure events. Addressing an acute gap in pet epilepsy care, PetPace Bio-Response™ for Epilepsy has the potential to revolutionize treatment of epileptic dogs.
Epilepsy is a common condition affecting millions of dogs worldwide. A key clinical question that often remains unanswered is the frequency of seizures a dog suffers. Since dogs spend many hours unobserved, it is difficult for pet owners to know when a seizure occurs. As a result, veterinarians are challenged to formulate treatment plans for epileptic patients without knowing the actual scope or frequency of seizures.
As part of the PetPace Bio-Response™ for Epilepsy program development, PetPace is working with a large group of epileptic dogs and their pet parents to collect hundreds of seizure events and their correlated PetPace Smart Collar data.
Starting this month, PetPace began to enroll the PetPace Bio-Response™ for Epilepsy to its Pet Plus and Pet Platinum clients. It collects and analyzes a range of physiological and behavioral data from owner-reported seizure events, including changes in pulse, respiration, temperature, activity, positions, HRV and more. The PetPace analytic engine analyzes the relevant biometrics using advanced mathematical models and machine learning techniques and provides key statistical indicators, measures and graphical patterns that can then be used to detect future seizures.
"This technology has the potential to change the way caregivers relate to and treat epileptic dogs and cats," said Dr. Asaf Dagan, DVM, Diplomate ABVP (Canine and Feline practice), and PetPace's Chief Veterinarian. "The powerful combination of caregiver input and PetPace advanced analytics may open the door for remote, automatic detection of seizures, and ultimately to significant improvement in the management of this unfortunate condition," he concluded.
Prof. Mickey Scheinowitz, previous Chair, Department of Biomedical Engineering and Founder/Director of Biomedical Technology Innovation Program at Tel Aviv University, added, "Leveraging the data collected by the dog's smart collar and using machine learning and big data models holds a great promise for the future of medical care. PetPace's Bio-Response™ for Epilepsy program is an excellent application of this approach in the veterinary world".
About PetPace
PetPace was founded in 2012 to bring peace of mind to pet owners and prevent unnecessary pain and suffering for dogs and cats through improved pet health and quality of life. PetPace specializes in the remote monitoring of pet vital signs by utilizing advanced analytical methods and alerting models. The company's low power, wireless collar is fitted with an array of sensors that report abnormal vital signs within established physiological and behavioral parameters. Once an abnormal sign or behavior is detected, a sophisticated cloud-based analytical engine evaluates the signs and if needed, sends an immediate alert regarding any suspected condition. This allows the owner or the vet to take preemptive action to protect the pet's health. For more information about PetPace real-time pet health monitoring, visit http://www.petpace.com.