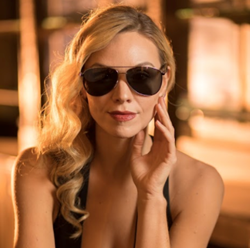 ATLANTA (PRWEB) April 10, 2018
The team behind Quantum Gravity sunglasses believes that luxury sunglasses are not defined by a label, but instead by the caliber of materials, attention to detail and perfect fit. In designing their first style of sunglasses, the Rome aviators, Quantum Gravity put emphasis on offering consumers sunglasses at an affordable price without skimping on quality. Today, Quantum Gravity Sunglasses launched their Kickstarter campaign in the hopes of raising $50,000 to bring their Rome aviators directly to the public.
The frames of Quantum Gravity eyewear are handcrafted by the finest manufacturers in Italy, which prompted the team to name their main model after the country's capital. The metal elements on the frame are made of Monel and Nickel Silver, which are supple yet strong to provide structure to the frame. The hand-soldered silver alloy joints help to reduce breakage, creating a durable frame. The acetate used on the temple tips are from Mazzucchelli Italy which are renewable, non-petroleum, plant-based material; also lightweight and hypoallergenic.
The Rome aviator's lenses are made by French lens company Dalloz Creations, a company who has mastered the art of making highly technical lenses. For over 40 years, Dalloz has been known for innovation and skill in manufacturing high-end sun lenses for the sport, luxury and fashion industries.
"We have traveled the world bringing together the right partners who also believe in this vision," said CEO and Co-founder Hemant Butti. "From product designers to master craftsmen and technicians, our team represents the best in the industry. The aviator style has evolved over the years, but its charm entices everyone. Rome is our take of this timeless design. We like to joke that the name Rome is fitting for the aviator style because we think that this style is so classic that even Julius Caesar would have worn it."
Quantum Gravity's Rome aviators are being offered in three different frame colors, each with their own set of unique lens features. Rome Gold aviators are fitted with Cridal lenses— a hybrid between glass and resin made exclusively by Dalloz Creations. Cridal provides excellent resistance to stress cracking, perfect transparency without light diffusion, allowing for clean, clear vision free from any distortion. Rome Blue aviators feature a sleek blue polarized lense designed to protect against glare and projected objects. Rome Grey aviators are paired with grey, multi-use optimized lense designed specifically for outdoor use. This lens is perfect for using your phone/computer screens while wearing your sunglasses. Most polarized lenses dim your phone screen making it hard to read it, but our grey optimized lens solves this common problem with polarized lenses. All the lenses have a proprietary AR Coating to enhance vision and Hydroilo coating on both sides for easy maintenance.
Each color of the Quantum Gravity's Rome aviators are available on Kickstarter for a limited time starting at 30% the retail price. To learn more and to see additional features, visit the campaign page at http://pr.go2.fund/quantumgravity.
About Quantum Gravity
Quantum Gravity is an Atlanta-based company focusing on manufacturing eyewear focused exclusively on high-end design, the finest materials and precision craftsmanship. To learn more, visit, https://quantumgravity.com/.