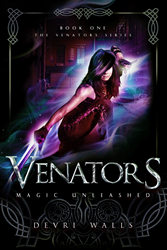 "I strive to write women who are strong yet flawed. Determined, yet emotional. Capable in some areas and weak in others. Because really, what is the point of reading about a fantastic female character you could never emulate or learn from" --Devri Walls
DALLAS (PRWEB) April 11, 2018
Brown Books Publishing Group is proud to announce the publication of Venators: Magic Unleashed by international bestselling author Devri Walls, author of the "Solus" Series and The Wizard's Heir. In her new young adult (YA) fantasy series, Walls' talent for world-building takes readers into the dark dimension of Eon, where the paranormal thrives – and humans reside at the bottom of the food chain.
Offering advance praise for the first installment in the series, School Library Journal hailed the book as "a dynamic, intriguing, and magical world with interesting characters and a story that will engage teens," and noted, "Walls has done everything right."
The New York Times bestselling author of the "Celestra" series, Addison Moore, said of Venators, "Fast-paced and supernaturally entertaining, it will leave you hungry for more!"
Walls' vivid imagery captures readers and draws them into the realm of Rune Jenkins, her twin brother Ryker, and their friend Grey Malteer, who are taken to Eon after their college dorm is infiltrated by dangerous creatures. The trio faces a foreign land filled with fae, vampires, werewolves, and wizards on a journey that reveals their true ancestry. They are Venators, people descended from great warriors designed to keep the supernatural and mundane worlds from colliding.
Through these complex characters, Walls lends a fresh perspective to the YA genre – and challenges stereotypes often found in books with a strong female lead. "I strive to write women who are strong yet flawed. Determined, yet emotional. Capable in some areas and weak in others," Walls explained. "Because what is the point of a fantastic female character you could never emulate or learn from?"
According to the leading library journal dedicated to the needs of YA librarians, Voice of Youth Advocates (VOYA), "Fans of Cassandra Clare's "Mortal Instruments" series or Laini Taylor's "Daughter of Smoke and Bone" series will surely appreciate Venators."
Walls has also cited Lord of the Rings and Game of Thrones as inspirations, but emphasizes the originality that sets "Venators" apart. "This series is going to just keep getting bigger and better as Rune and Grey venture deeper in Eon," she hinted. "Let's just say the games will be of epic proportions!"
To learn more about Devri Walls and the "Venators" series, please visit: http://www.devriwalls.com/