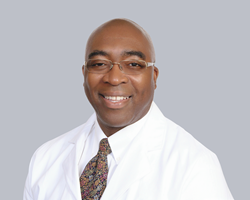 Everyone is entitled to great health care: doing what's right for everyone and treating each patient's pain uniquely.
TAMPA, Fla. (PRWEB) April 13, 2018
Physician Partners of America (PPOA) announces that physician and inventor Lesco L. Rogers, M.D., joined its Winter Haven clinic April 9 as as interventional pain management specialist.
He is certified by the American Board of Anesthesiology and specializes in treating spine-related pain, migraines, trauma-induced headaches and movement disorders.
Dr. Rogers's varied background includes collaborating on the development of a medication-free device to treat migraines, which recently received FDA approval for home use. In addition, he has developed a combination nerve block and topical therapy to treat temporomandibular (jaw) disorders such as TMJ.
His patient care philosophy is grounded in his "sense of humanity," he says. "Everyone is entitled to great health care: doing what's right for everyone and treating each patient's pain uniquely."
Born in London, Dr. Rogers earned his Bachelors of Science at Lehman College, City University of New York in New York City. He received his medical degree from the Geisel School of Medicine, Dartmouth College in Hanover, NH, and completed his internship at University Hospital, New York Medical College, Westchester County Medical Center. He completed his residency at the Robert Wood Johnson University Hospital, New Brunswick, NJ.
He followed this with a fellowship in interventional pain management and anesthesiology at Georgetown University Hospital, Washington, DC.
Dr. Rogers has been a faculty member of the internationally renowned Michigan Head Pain and Neurological Institute, and the Duke University Pain and Palliative Care Clinic. He has also served as an adjunct faculty member at Duke and as a consultant to Boston Scientific and Advanced Bionics.
He and his wife have four children. In his spare time, he enjoys playing jazz bass.
The clinic is located at 7518 Cypress Gardens Blvd., Winter Haven, Fla., 33884 and is open from 8 a.m. to 5 p.m. weekdays. Patients can schedule appointments, including same-day visits, by calling (863) 508-1340.
About Physician Partners of America
Headquartered in Tampa, Fla., Physician Partners of America (PPOA) is a fast-growing national healthcare company committed to fighting the opioid epidemic through interventional pain management and cutting-edge treatment modalities. It manages operations of a wide range of medical practices and ancillary services. These include pain management, minimally invasive laser spine surgery, orthopedics, primary care, psychological services, personal injury and Workers' Compensation. It also operates AAAHC-accredited ambulatory surgery centers and procedure suites. Its ancillary division includes imaging,intraoperative neuromonitoring, medical supply distribution, pharmacies, a COLA-accredited high-complexity quantitative toxicology lab, and a COLA-accredited pharmacogenomics lab. For more information, please visit physicianpartnersofamerica.com.