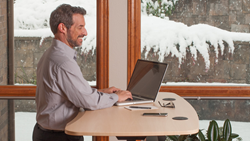 "We reward our MojoDesk affiliates with a generous commission structure that increases based on performance, a 45-day tracking window, and monthly payouts."
DENVER (PRWEB) April 11, 2018
MojoDesk, makers of a new line of premium standing desks, announces their affiliate program. Approved partners can begin earning substantial commission by referring customers to MojoDesk's website.
Enrolling in the MojoDesk Affiliate Program is fast, simple and free by applying via the Affiliatly portal,. Partners can track their referrals, commission amounts, and payouts through a user-friendly dashboard. Further, they can access a library of pre-built marketing tools including promotional banners with built-in tracking codes and campaign-specific links to add to relevant blogs, sites, and social networks.
Reasons to join MojoDesk's Affiliate Program:

Commissions begin at 4%, increases based on performance
Average transaction is $850 (View Standing Desks)
45 Day Referral Cookie
Monthly payouts via Bank Transfer
Simple, free sign up process via Affiliatly
Variety of banners, links, promotional resources
Simple cut and paste implementation
Apply HERE
A major benefit of the MojoDesk Affiliate Program is that the referral cookie is kept active for 45 days. Therefore, affiliates earn commissions even when customers return after their initial visit and purchase over a month later. "Our average conversion time between first website visit to purchase is about 25 days which is typical for a larger online purchase," said Devin Fox, MojoDesk eCommerce Manager. "Our customers tend to visit our site several times during that time and do their homework to confirm that MojoDesk is the best standing desk solution. To make sure our affiliates are rewarded for their referrals we offer a generous commission structure that increases based on performance and a 45-day tracking window."
"Our ergonomic adjustable height desks have proven to improve wellness, a reduction in weight gain, and boost energy," said Barry Carson, co-founder, and president of MojoDesk. "Over the last few years, companies have added sit-to-stand desks, like MojoDesk, to their WorkPlace Wellness Programs. MojoDesk is a great fit for websites or articles focused on business trends, health, and active lifestyles."
Designed and made in the US, MojoDesk is an electric-powered sit-to-stand desk available for purchase at getyourmojo.com. Since 1991, MojoDesk has perfected the design of ergonomic furniture with a history of excellence selling to clients such as NASA, the FBI and thousands of 911 call centers. The company, which employs 75 people, manufactures all desktops at their 40,000-square foot factory in Littleton, CO.
Apply for the MojoDesk Affiliate Program HERE.