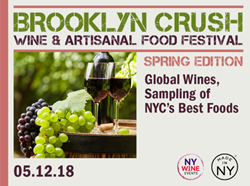 The industrial chic setting, diverse wines, sumptuous foods from artisan makers, and live jazz will offer guests an exciting wine, entertainment, and culinary experience.
NEW YORK (PRWEB) April 12, 2018
New York Wine Events is pleased to announce the Brooklyn Crush Wine & Artisanal Food Festival: Spring Edition presented by Jaguar Land Rover will return to Industry City in Sunset Park, Brooklyn on Saturday, May 12. The 4th annual spring tasting offers a choice of two sessions: Afternoon: 2-5pm or Evening: 7-10pm along with a premium early admission ticket enabling guests to enter an hour prior to the start of the general sessions.
The event takes place on two levels at The Landing at Industry City and will feature an expansive selection of wines, artisanal foods, and select lifestyle product and service sponsors, along with light fare including hors d'oeuvres, cheese, bread, and cracker selections. Artisan food makers from New York City and beyond will be sampling chocolates, charcuterie, cheese, dipping oils and sauces, baked goods, and more. Guests can take home their complimentary custom tasting glass as a souvenir and enjoy live jazz performances during each session.
Tasting tables located throughout the spacious venue will feature diverse selections including bold, fruit-forward and complex reds; oaked, buttery, and dry white wines, plus some sweet and sparkling wines. Varietals from old, new and emerging wine regions around the globe will be showcased including France, Italy, South America, Bulgaria, California, and more. New York State wines will be showcased from Long Island Wine Country, the Hudson Valley, and other regions.
"We're pleased to partner with Jaguar Land Rover for the first time to present our annual spring event in Brooklyn," notes Sam Kimball, founder of New York Wine Events. "The industrial chic setting, diverse wines, sumptuous foods from artisan makers, and live jazz will offer guests an exciting wine, entertainment, and culinary experience."
Participating sponsors include: Citi, 90+ Cellars, ARV Sweets, Barrow's Intense, Beecher's Handmade Cheese, Bennett's Deli & Sandwich, Brew Dr. Kombucha, Brotherhood Winery, Buli Wine & Olive Oil, Cutco, Dessert Proof, Drunken Fruit, Ends Meat, Enlightenment Winery, Ferreira Carpenter Winery, Freefall Sangria by Liquid Altitude, Gladiator Wine Distribution, Goodway Gourmet Bakery, Green Mountain Energy, Jacques Torres Chocolate, Jamesport Vineyards, John Wm. Macy's Cheesesticks, Li-Lac Chocolates, LELO Fine Foods, Les Trois Petits Cochons, Maiden + Liberty, Ma Lung Winery, Martha Clara Vineyards, Moore Brothers Wine Company, My/Mo Mochi Ice Cream, Organic Olive Juice, Palmer Vineyards, Rough Day Wine, Ruffino, Sail Away Coffee, Salsa di Parma, Sannino Vineyards, Sparkling Ice, Taconic Distillery, Toast Ale, Topo Chico Sparkling Water, Twisted Truffles, Verizon Fios, Wines of Brasil, Wines of Chile, The Wining Hour, and XV Exclusives. Restaurant sponsors sampling their specialties include Yaso Tangbao and Calle Dao. Additional wineries, artisanal food purveyors, and restaurants will be added in the coming weeks; check web site for details. Once again, select artisanal food companies and New York State wineries and distilleries and will have full size items and bottles available for guests to purchase and enjoy at home.
Tickets to the Brooklyn Crush Wine & Artisanal Food Festival are on sale now, ranging from $50 to $120, depending ticket level, and time of purchase. Check the web site for details about limited time discounts, 15% savings for groups of 10 or more, and New York Wine Events' Taste VIP program membership benefits including complimentary event tickets and discounts. Advance purchase is highly recommended as New York Wine Event's popular tastings have experienced sold out crowds for over a decade, and the spring event is expected to do the same.
For complete details or to purchase tickets for Brooklyn Crush, visit NewYorkWineEvents.com.
About New York Wine Events
New York Wine Events is committed to bringing together New York Metropolitan wine and food lovers, whether it's at one of our wine fests, while browsing other New York area food and drink events, or reading our in-depth articles online about the area food and drink scene. The company's goal is to provide a wine tasting experience that allows guests to sample as many diverse wines as possible while enjoying great music and the company of other wine lovers. Visit NewYorkWineEvents.com.