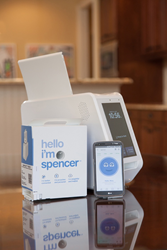 A family owned and operated business by Craig and Elena Tostenson, the Glenmore Pharmasave is dedicated to helping their community by introducing the spencer program to improve people's health outcomes and give peace of mind to caregivers.
KELOWNA, British Columbia (PRWEB) April 11, 2018
The Glenmore, Kelowna Pharmasave has announced the availability of the spencer™ in-home medication dispenser. A family owned and operated business by Craig and Elena Tostenson, the Glenmore Pharmasave is dedicated to helping their community by introducing the spencer program to improve people's health outcomes and give peace of mind to caregivers.
spencer is meeting an increasing need in the Okanagan. Consider this:

Seniors represent a staggering 21% of our population. They are living longer and want to stay home for as long as possible (Global News; Aging in the Okanagan: Seniors population on the rise, 2017).
72% of the 30,363 BC residents receiving long-term home support are for difficulty with medication management (Office of the Seniors Advocate BC; Analysis: Who are we caring for? 2017).
Multiple medications are a common concern when it comes to senior's health. Pharmacists dispensed an average of 35 prescriptions per person aged 60 to 79, and 74 prescriptions per person aged 80 or older, compared with an overall average of 14 prescriptions per Canadian (Statistics Canada; Findings, 2015).
Approximately 11% of 45 to 64-year-olds and 30% of seniors aged 65 to 79 took at least five prescription medications concurrently (Statistics Canada; Findings, 2011)
Not adhering to medication accounts for almost 70% of medication-related hospitalizations. That costs the Canadian healthcare system up to $9 billion per year. (ABN Life; The cost of non-adherence to prescribed medications, 2017).
Older adults who fail to take prescribed medications were 76% more likely to experience a significant decline in their overall health than those who took their medications as prescribed (Medical Care; The Health Effects of Restricting Prescription Medication Use Because of Cost, 2004).
Remember the daily M-T-W-T-F-S-S pill box? The need to manually sort medications into an organizer, or set alarms to remind users to take them; those days are behind us. Users can have medications delivered at home in a personalized box that can be simply placed on the countertop, a device that signals when it is time to take medications, and then dispenses exactly what is needed. Simple. Convenient. When it comes to taking medications at home, we've entered a new era of connected services and technologies; welcome to Canada, spencer!
For Craig and Elena, the decision to introduce spencer was personal. It was becoming increasingly difficult to manage the complex medication schedule for a parent living with Parkinson's. Elena shares her story:
"spencer has had an emotional impact on my family. My father, Frank, takes multiple medications several times each day, and we worried about whether he was taking his meds at the right time. spencer relieved that worry. After just a few weeks with spencer, I witnessed a transformation. I was having coffee with my mom while my father napped in his chair. It was time for dad's medication, and spencer started to beep. Just like that, dad woke up, walked over to spencer, spencer dispensed his meds, which he took, and then returned to his chair and nap. My mom didn't skip a beat in our conversation. If you told me a year ago we could all be this relaxed; I wouldn't have believed you. Before spencer, my dad wouldn't have been relaxed enough to nap, for fear of missing a dose. My mom would have been anxiously checking her watch, too. spencer is so much more than a medication reminder; it has given us true peace of mind."
Craig, the first spencer-certified pharmacist in Canada, adds, "We are very excited to bring spencer to the Okanagan. It's no understatement to say that spencer changes lives."
spencer allows pharmacists to take a pro-active, patient-centered approach to patient care. According to Craig, "Beyond simply dispensing pills or sending alerts, spencer connects the patient, caregiver, physician, and pharmacist to ensure we all stay informed and work together. For example, spencer enables the pharmacist to be alerted to side effects, etc., so we can work with the patient's physician to adjust doses and medications to improve therapeutic outcomes, enhance the quality of life, and avoid hazardous situations. And caregivers no longer have to worry about medication administration, because with spencer, they can check in on loved ones to see if pills were dispensed on time, dispensed late, or missed altogether."
spencer is designed for use at home; shaped roughly like a tall toaster, but it's likely the most advanced appliance in your home. spencer is part of Catalyst Healthcare's adherence ecosystem, a suite of connected technologies that gather, share and correlate data in real-time. Catalyst is a local, Kelowna-based technology company that, together with Glenmore Pharmasave, are spearheading the use of digital health tools to improve patient outcomes in the Okanagan.
Julie McRae, a Baccalaureate prepared Registered Nurse and Catalyst's Director of Clinical Outcomes states, "The emphasis in health service delivery must shift toward better chronic disease management, with care that is delivered in a patient and family-centered manner. A key component of remaining independent is the ability for patients to share their health information, such as medication adherence, with their larger support system, which is made possible by spencer and individuals such as Craig and Elena who are passionate about making an impact in their community."
About Glenmore Pharmasave
The Glenmore Pharmasave is a family business owned and operated by Craig and Elena Tostenson. In addition to spencer, this location offers prescription delivery, foot care by a registered nurse, travel vaccinations and flu shots, home health care sales and rentals, a lifestyle/weight loss program along with standard pharmacy products and services. For more information, visit http://www.meetspencertoday.com/.
About Catalyst Healthcare
Catalyst Healthcare is an award-winning technology company dedicated to improving medication adherence and reducing the costs associated with non-adherence to healthcare systems. Catalyst provides an end-to-end pharmacy solution for adherence that improves quality and efficiency at every point across the medication delivery ecosystem. Our goal is to ensure that everyone, regardless of care setting, has access to clinically-managed digital health tools that lower costs and improve outcomes. For more information, visit http://www.catalystrms.com.
For more information or media opportunities, please contact:
Pharmasave Glenmore:
Craig Tostenson, Pharmacist / Owner
(250) 861-4443
craigtos[at]shaw[dot]ca
Catalyst Healthcare:
Kasumi Oda, VP of Marketing
(250) 980-4713
kasumi.oda[at]catalystrms[dot]com