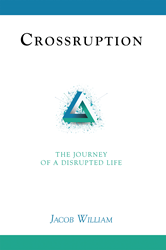 WEST PALM BEACH, Fla. (PRWEB) April 16, 2018
A Florida-based entrepreneur and writer has released his debut book, which diverges from commonly accepted Christian viewpoints, takes readers beyond the organizational, locational or emotional elements of current Christian religious dogma and, ultimately, emphasizes the spiritual transformative nature and depth the human spirit is designed to experience.
In "Crossruption: Journey of a Disrupted Life," author Jacob William explains that the modern world's practice of Christianity has gradually shifted from that of a literally spiritual, Jesus-led perspective to one of pathos-driven belief and baseless labels. William's book disrupts traditional thinking about what it means to be Christian and speaks to divisive political, racial and religious issues that are perpetuated by the teachings of today.
"Religion was started as an answer to the inner emptiness of man. We go to church and do religious things in hopes that it will fulfill our inner emptiness, and often, we are fooled into thinking more religious activity will satisfy that inner vacuum," William said. "At present, Christianity is predominantly like any other religion of the world – an intellectual and emotional stimulant with no spiritual transformation. My hope is that 'Crossruption' can change that."
Through relevant business metaphors, scripture-guided passages and his own personal testimony, William calls for a shakeup of the Christian mindset and an identity-focused reckoning for believers of all backgrounds. A practical, accessible resource, "Crossruption" delivers a roadmap for spiritual rebirth and transformation and encourages readers to reconnect with themselves and their creator.
"Crossruption: Journey of a Disrupted Life"
By Jacob William
ISBN: 978-1-5127-8738-2 (hardback); 978-1-5127-8736-8 (paperback); 978-1-5127-8737-5 (electronic)
Available at the WestBow Press Online Bookstore, Barnes & Noble and Amazon
About the author
Jacob William is a serial entrepreneur and the president and group CEO of Flatworld, a global corporation that provides IT and business consulting services. William was born and raised in a Christian household in India, where he was exposed to a diverse landscape of religions and spiritual practices. After experiencing a brush with death as a teenager, William underwent his own renewal of faith, ultimately inspiring the writing of "Crossruption." He currently resides in West Palm Beach, Fla. To learn more, please visit http://www.crossruption.com or follow William on Facebook, Twitter and Instagram.
###
Review Copies & Interview Requests:
LAVIDGE – Phoenix
480-648-7557
dgrobmeier@lavidge.com
General Inquiries:
LAVIDGE – Phoenix
480-998-2600 x 584
mdriver@lavidge.com