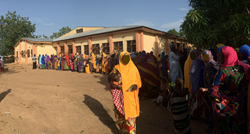 I am happy to be the first, of what I am sure will be many AppSheet App Innovators. The work we are doing at New Incentives is turning the international relief process on its head and AppSheet is playing a huge role in helping us do this.- Svetha Janumpalli, New Incentives
SEATTLE (PRWEB) April 19, 2018
New Incentives' Svetha Janumpalli receives the first AppSheet App Innovator award, an award that recognizes app creators for creating apps that change how work is done, influencing positive changes in organizations and the world.
New Incentives, a U.S. nonprofit operating in Nigeria, offers a health-based reward system for families that allows them to receive flexible cash in exchange for achieving a health-related goal, such as immunizing infants. The organization collects more than one million data points from various sources every week in order to determine how to improve its mission. Janumpalli switched to the AppSheet app development platform in order to create an app that streamlined the processing, managing, and analyzing of that data.
"Since switching to AppSheet, operations have dramatically improved," said Janumpalli. "In just one week, we designed a powerful app and have since expanded to a total of 16. Many processes across our organization now run on AppSheet. AppSheet has helped us deliver our program to a total of 32,954 low-income mothers and their infants. This estimate does not include the infants so that it is an exact number of caretakers we have directly provided the cash incentives to."
AppSheet's App Innovator award series shines a light on inspired people creating apps that make a difference in the workplace or the world. "Everyday we learn about app creators from every sector—non-profit, education, construction, and more—that have had a significant impact on their business or organization through the development of apps that have changed how people get work done. In ways big and small, we marvel at the ingenuity of these creators and the apps they create to solve a specific problem, address an unmet need, or change an existing process for the better. This award recognizes those creators as innovators in their fields," said Praveen Seshadri, CEO of AppSheet.
"I am happy to be the first, of what I am sure will be many AppSheet App Innovators," said Janumpalli. "The work we are doing at New Incentives is turning the international relief process on its head and AppSheet is playing a huge role in helping us do this."
About AppSheet
AppSheet is an intelligent no-code platform used by both technical and non-technical users alike for the creation and distribution of apps. It is the platform of choice for over 200,000 app creators across the globe, in small- and medium-sized organizations as well as Fortune 500 companies.
About New Incentives
New Incentives is an international non-profit organization that saves lives by increasing demand for routine immunizations. New Incentives uses conditional cash transfers, one of the most well-researched and successful methods in development aid, to dramatically increase immunization coverage and reduce vaccine-preventable deaths. New Incentives is supported by GiveWell, Good Ventures, the Bill & Melinda Gates Foundation, the Lampert Family Foundation, Y Combinator, the Swiss Agency for Development and Cooperation, Founders Pledge, and the Clinton Global Initiative.