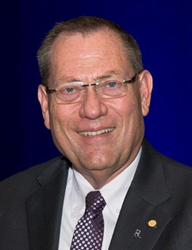 Randy is very well-respected and widely recognized as one of the aviation industry's top airport executives and brings a wealth of relevant first-hand expertise to our clients
LONG BEACH, Calif. (PRWEB) April 12, 2018
As a founding partner at Aeroplex Group Partners, veteran airport executive Randall D. Berg, A.A.E. has become an active member of the firm. Berg's career encompasses more than 40 years of comprehensive experience in airport executive management and aviation advocacy, including leadership expertise from small municipal to large-hub international airports.
In his expanded role with Aeroplex Group Partners, Berg will provide a wide range of consulting services for the firm's airport and aviation clients across the country, including airport administration and operations; security and maintenance functions; land use and facility development, finance and FAA grant management; capital improvement funding; tenant and airline lease negotiations; and FAA and TSA regulatory compliance.
"Randy is very well-respected and widely recognized as one of the aviation industry's top airport executives and brings a wealth of relevant first-hand expertise to our clients," said Curt G. Castagna, C.M., President and CEO of Aeroplex/Aerolease. "We are grateful that Randy's career path has enabled him to dedicate his time to working alongside our team of experienced and talented staff and member consultants."
Until his recent retirement, Berg served as the Director of Aviation for King County Washington, where he directed the King County International Airport, commonly known as Boeing Field. For the previous 15 years, he was the Director of Airport Operations for the Salt Lake City Department of Airports. In this position, he was responsible for the daily operations of the Salt Lake City International Airport, a "large hub" facility that handles approximately 24 million passengers and over 300,000 annual aircraft operations. Additionally, he was responsible for the department's two general aviation airports. During his career, Berg also held executive level airport management positions with the Burbank-Glendale-Pasadena Airport Authority; the City of Long Beach, Calif.; El Dorado County, Calif.; and the City of Auburn, Washington.
"After retiring from a rewarding 42-year career in airport executive management, I am looking forward to working in close collaboration with my partners to continue providing our clients with the knowledge and expertise they have come to expect," said Randall D. Berg, A.A.E., Aeroplex Group Partners. "At this point in my life, I welcome new consulting challenges, the increased opportunity to continue with my passion teaching young people about airport and aviation careers, and the chance to spend more time with my family."
Berg is a certified private pilot and has taught Aviation Administration as an Adjunct Professor at various universities for over 30 years. Throughout his career, he has been involved in numerous industry associations and served on the Executive Committee, as a board member and chair of the American Association of Airport Executives. He is a recipient of the association's Distinguished Service Award.
Berg currently serves on the board of directors for the National Air Transportation Association and participates in the Transportation Research Board, National Academy of Sciences Airport Cooperative Research Program. He was also a board member for the National Aeronautic Association and past president of the Aero Club of Southern California.
Aeroplex/Aerolease Group's recent projects include Van Nuys and Long Beach Airports with 50,000 sq. ft of new construction, new development projects, lease negotiations, and overseeing and constructing a new federal user fee Customs and Border Protection facility at Van Nuys Airport; a leasing policy review for the Ventura County Airports; and a fuel flowage fee analysis and market survey recommendation for DeKalb Peachtree Airport outside of Atlanta.
About Aeroplex/Aerolease Group
Aeroplex Group Partners, LLC (AGP) is the consulting branch of the four business entities that comprise the Aeroplex/Aerolease Group. With over 40 years of private sector airport land use, development and facility management experience, and together with our member consultants who combined have well over 100 years of public sector policy experience, AGP provides airports and aviation businesses a team with in depth skills in airport administration and operations, contract management, airport planning, land and airspace issues, facility and FBO development, management, marketing and business planning. For more information, visit http://www.aeroplex.net.