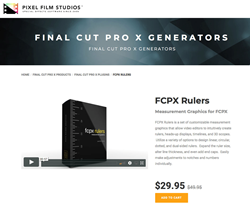 "With FCPX Rulers, applying number and interval measurements to projects is now easier than ever!"
ALISO VIEJO, Calif. (PRWEB) April 13, 2018
FCPX Rulers is a set of customizable measurement graphics that allow video editors to intuitively create rulers, heads-up displays, timelines, and 3D scopes. Utilize a variety of options to design linear, circular, dotted, and dual-sided rulers. Expand the ruler size, alter line thickness, and even add end caps. Easily make adjustments to notches and numbers individually.
FCPX Rulers comes packed with amazing customizable options. Alter the size of the ruler, add additional intervals, and tweak the thickness with simple slider controls. Adjust the height of all notches, or choose to refine lines at the interval level. Instantly create incredible measurement graphics with intuitive controls in Final Cut Pro X.
Final Cut Pro X users can create linear, circular, and dot rulers with a single-click. With Circular Options, editors can utilize the radius slider to adjust the circle size. Additionally, start and end angles allow for semi-circle to full-circle measurement graphics. With dot options, FCPX Rulers users can transform any graphic into one created by dots. Lastly, dual-sided ruler options allow for front, back, and double-sided graphics.
Rulers allows users to control the amount of intervals, and the numbers displayed on top of each notch. Each interval features an on /off toggle, individual font color, notch color, number offset, and height controls. These options allow for precise customization for up to 4 sub-intervals. With "Link Notch Colors" and "Link Numbers Color"
FCPX Rulers features a built-in camera on-screen control that allows editors to adjust the position, rotation, and depth of the camera with ease. In addition to the camera's transform controls, users can alter camera plane controls and depth of field to create 3D looks. Achieve a variety of incredible angles and interesting animations, all within Final Cut Pro X.
Established in 2006, Aliso Viejo, California-based Pixel Film Studios is an innovative developer of visual effects tools for the post-production and broadcast community. Their products are integrated with popular non-linear editing and compositing products from Apple FCPX. Apple, the Apple logo, Mac OS X, and Macintosh are registered trademarks of Apple Inc. in the U.S. and/or other countries. All other trademarks and trade names are the property of their respective owners.