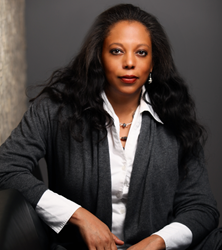 LOS ANGELES (PRWEB) April 11, 2018
Ruiz Strategies announced today the appointment of marcomms professional Monica Bouldin as vice president. In this newly created position, Monica will be responsible for directing and implementing the company's marketing strategy and expanding the company's client roster. Bouldin most recently served as vice president and managing director for R&R Partners California.
A highly-experienced and award-winning communications professional, Bouldin brings more than 20 years of in-house and agency experience to Ruiz Strategies. Monica possesses deep expertise in lifestyle and entertainment marketing; influencer engagement, digital strategy; corporate and multicultural communications. Prior to her tenure with R&R Partners, she worked for Hill+Knowlton, Edelman and Ogilvy PR Worldwide. Monica also held in-house communications positions at Warner Bros. Consumer Products and Fox Broadcasting Company. 
"Having Monica join our team is a confirmation of the positive direction of our growth strategy," said Michele Ruiz, President and CEO, Ruiz Strategies. "Her proven experience at some of the most well-regarded agencies in the world and her exceptional track record managing marcomms strategies for world-class companies will be hugely beneficial as she helps move the evolution of Ruiz Strategies forward." 
"I'm thrilled to join Ruiz Strategies and its amazing team of dedicated, specialized communications professionals," said Bouldin. "As the marketing discipline and role of agencies continues to evolve, I believe that Michele has created a best-in-class agency model – one that provides clients' with dedicated, senior-level counsel, solely focused on delivering results that exceed our clients' expectations. I look forward to working with this incredible team to expand the company's presence and roster across the country."
Spanning her career, Bouldin has worked with a variety of companies and brands including Virgin America, Nestle, The Patina Group, Hilton Prestige Portfolio, Oakwood Worldwide, Twentieth Century Fox Home Entertainment, Microsoft Xbox, Square Enix, Mazda and Rolls Royce of North America.
About Ruiz Strategies:
Ruiz Strategies, a certified woman and minority owned company with offices in Los Angeles, Houston and Washington, D.C., is a strategic communications firm specializing in helping world class companies, professional services firms, government entities and C-level executives communicate transformative messaging to connect with customers in relevant ways, grow their businesses to achieve broader market penetration, and elevate their brands as recognizable thought leaders. The company's clients include Fortune 100 corporations including BP, Shell Oil, Verizon, Toyota, and federal government agencies including NASA.