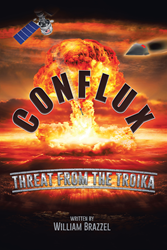 MORRISTOWN, N.J. (PRWEB) April 16, 2018
A New Jersey-based writer has released his debut political suspense novel that unravels the action-packed story of an investigative journalist who finds himself at the center of an international conflict.
In "Conflux: Threat from the Troika," author William Brazzel follows the story of ex-special forces officer Sean Carrol – a reporter who becomes entangled in an intricate terror plot after powerful paramilitary organization Deutsche Christen kidnaps his niece and nephew. Upon receiving a demand for an interview from the organization's seemingly indomitable and ruthless leader Carl Dietrich in exchange for his family members' safety, Carrol must navigate the rocky political terrain of a terrorist group on the cusp of overthrowing the U.S. government.
"Through this book, I wished to create a novel that is truly unique and that incorporates fresh, new ideas and creative political points of view," Brazzel said. "I enjoy creating stories that I believe will entertain the reader while allowing them to digest and be challenged by different perspectives and ideas."
"Putting this book down was not an option," an Amazon customer wrote in a five-star review of the book. "Once I began reading it I was gripped by the story and had to keep reading because I wanted to know what was coming next. The author does a brilliant job of taking the reader on a roller coaster ride of emotions built around a tense and thrilling story."
Chock-full of suspense and excitement at every turn, "Conflux: Threat from the Troika" delivers a compelling narrative that twines elements of fiction with modern social and political issues, attitudes and anxieties.
"Conflux: Threat from the Troika"
By William Brazzel
ISBN: 978-1-5043-9178-8 (hardback); 978-1-5043-9176-4 (paperback); 978-1-5043-9177-1 (electronic)
Available through the Balboa Press Online Bookstore, Barnes & Noble and Amazon
About the author
William Brazzel has been the owner and president of a property and casualty agency for 30 years. A history and politics enthusiast, Brazzel is also the author of science fiction book "The Seventh Holy Man." He currently resides near Morristown, N.J. To learn more, please visit http://www.scifiauthorbrazzel.com.
###
General Inquiries, Review Copies & Interview Requests:
LAVIDGE – Phoenix
480-648-7557
dgrobmeier(at)lavidge(dot)com