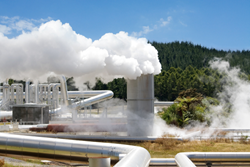 This award is a remarkable achievement and an exciting opportunity to extend our portfolio of through-the-earth telemetry technologies and commercialize innovative new products for the emergent renewable energy market
SAN ANTONIO, Texas (PRWEB) April 12, 2018
E-Spectrum Technologies, Inc., a market leader in the development of technology-driven solutions for upstream energy markets, announced it has been selected for the next phase of a United States Department of Energy (DOE) sponsored Small Business Innovation Research (SBIR) grant for $985,773 to continue development of A Near-Real-time Electromagnetic Data-Link for Geothermal Downhole Instruments  (Award Number: DE-SC0017065).   After successfully completing their Phase I grant, which is intended for feasibility studies and market analysis, E-Spectrum will use the Phase II funds to develop a fully commercialized product that will reduce hazards and  lower costs associated with drilling geothermal wells.
Clean and renewable geothermal energy is produced by harnessing the heat generated in the core of the earth. Geothermal reservoirs are a highly sustainable and efficient energy source that produces minimal emissions of carbon dioxide and other greenhouse gases. However, the full potential of geothermal energy has not yet been realized partially because of the significant economic risks involved with drilling wells deep underground to reach the reservoirs.  The new product under development by E-Spectrum Technologies will reduce these risks by wirelessly supplying drillers critical data measured by instruments located near the drill bit thousands of feet underground.  E-Spectrum Technologies is currently looking for industrial partners interested in field testing prototype units when they become available.
CEO Robert Houston says, "In 2017 only 9% of the companies that applied for the DOE SBIR program successfully completed Phase I and were awarded a Phase II grant.  This award is a remarkable achievement and an exciting opportunity to extend our portfolio of through-the-earth telemetry technologies and commercialize innovative new products for the emergent renewable energy market."
About E-Spectrum Technologies, Inc.
E-Spectrum Technologies is a San Antonio, TX based company that designs, manufactures, and supplies technology-driven products for exploration, drilling, and production in oil, gas, and energy markets. Our mission is to research, develop, and  commercialize new technologies for the markets we serve.