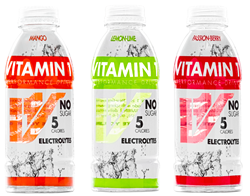 On several missions throughout Iraq where the temperature reached about 140 degrees, we needed to stay hydrated and alert at all times. The only options available were water and sugary sports drinks, so we didn't have a healthy source of electrolytes or vitamins
(PRWEB) April 12, 2018
A former Special Forces soldier Mike Taylor realized that the available sources of healthy hydration for people needed to change. While riding in a Blackhawk helicopter from Baghdad to Tal Afar in Northern Iraq, with the ground temperature hovering at scorching 142 degrees, Mike began to envision a drink that could hydrate properly in the heat or cold and still taste good without sugar.
Mike followed through with his plans to improve those options. With the help of his three sons, Mike has created the drink they call Vitamin 1. Containing the right balance of electrolytes, vitamins and no sugar, Vitamin 1 properly hydrates the body without an aftertaste.
"On several missions throughout Iraq where the temperature reached about 140 degrees, we needed to stay hydrated and alert at all times. The only options available were water and sugary sports drinks, so we didn't have a healthy source of electrolytes or vitamins," Mike Taylor said. "I wanted to create a drink, and I soon found out that everyone from fitness fanatics to families with children were looking for a delicious way to hydrate properly," Taylor continued.
Vitamin 1 was created for not just athletes, fitness gurus, military and diabetics, but anyone looking to achieve weight management and avoid sugar. With the help of doctors and scientists, it was created with good health in mind, which is why it only contains 5 calories. After a full workout and burning calories, it doesn't make sense to drink a beverage that contains an excess of calories, like most other sports drinks on the market.
With Vitamin 1, an entire family can benefit and enjoy any of its three delicious flavors including Passion Berry, Mango and Lemon-Lime. Because Vitamin 1 contains no sugar, it is a healthy substitute for anyone including children that crave sugary juices. Vitamin 1 is available in grocery stores, gas stations, colleges, health clubs and is even shipping across the world through Amazon.
From soldiers on the front line, to athletes always on the go, to the kids in your back yard, Vitamin 1 is dependable in keeping everyone healthy and hydrated. Consumers and re-sellers can learn more about Vitamin 1 at http://www.drinkvitamin1.com