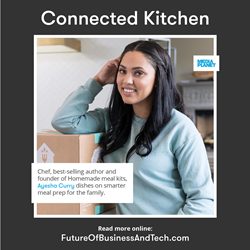 Families are busy, especially families with working parents, and too often meal time just becomes a box to check off the list.
NEW YORK (PRWEB) April 10, 2018
A few months after the conclusion of the Consumer Electronics Show (CES), Mediaplanet announced the launch of its first-ever edition of "Connected Kitchen." This campaign will advocate for reinventing the kitchen as the social hub of the home. This campaign highlights best practices for finding new kitchen technology and the tools that improve convenience and streamline the cooking process in our own home kitchens.
According to a new survey by ReportLinker, cooking is still the preferred way to prepare a meal for 98 percent of Americans. Among these Americans, the millennial generation is the least likely to cook at home with only 25 percent of millennials reporting cooking for themselves once or twice a week. Yet Wakefield Research 2017 reports that 86 percent of millennial homeowners or renters are willing to invest in smart home technology in order to save money long term, increase productivity and increase home appliance usage.
The print component of "Connected Kitchen" is distributed within the San Francisco Chronicle, with a circulation of approximately 163,000 copies and an estimated readership of 551,000 readers. The digital component is distributed nationally, through a vast social media strategy, and across a network of top news sites and partner outlets. To explore the digital version of the campaign, click here.
Chef, best-selling author and founder of Homemade Meal Kits, Ayesha Curry graces the cover of the print publication. In an exclusive interview, she offers her take on why Americans are not preparing home cooked meals like they use to. She tells Mediaplanet, "Families are busy, especially families with working parents, and too often meal time just becomes a box to check off the list." However, she is looking to change those habits and advocates her own smarter meal prep strategy. "Growing up in a busy family with two working parents, meal time was such an important ritual for us to be able to connect and spend quality time with each other. I want to make sure that tradition is not lost, simply because the idea of cooking is too stressful," she says.
Smart home expert Carley Knobloch also provides insight into the solutions we can invest in to make meal prep and home cooking more convenient and fun. From morning routines to summer barbecues with family and friends, Knobloch offers recommendations for new gadgets to make kitchens the ultimate smart hub of the home.
This campaign was made possible with the support of the Smart Kitchen Summit, The Smart Home Division of Amazon, Flo Technologies, IoT World, American Homebrewer's Association, Smart Home Expert Carley Knobloch, Chef and Bestselling Author Ayesha Curry, Mellow inc, Sengled USA, ChefSteps, and Actress and Producer Tamera Mowry-Housley and Fox News Contributor and Winemaker Adam Housley.
About Mediaplanet
Mediaplanet specializes in the creation of content marketing campaigns covering a variety of industries. We tell meaningful stories that educate our audience and position our clients as solution providers. Our unique ability to pair the right leaders with the right readers, through the right platforms, has made Mediaplanet a global content marketing powerhouse. Our award-winning stories have won the hearts of countless readers while serving as a valuable platform for brands and their missions. Just call us storytellers with a purpose. Please visit http://www.mediaplanet.com for more on who we are and what we do.