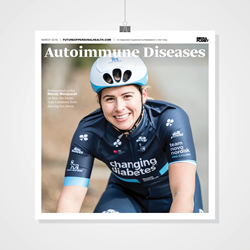 Over 80 autoimmune diseases exist, and these diseases can affect almost every part of the human body...
NEW YORK (PRWEB) April 10, 2018
Helping to conclude National Autoimmune Disease Awareness Month, Mediaplanet announced the Launch of this March's "Autoimmune Diseases" campaign. This publication will advocate for increased research and encourage autoimmune patients to be proactive despite living with a chronic condition.
According to the American Autoimmune Related Diseases Association, 50 million Americans are living with an autoimmune disease. Over 80 autoimmune diseases exist, and these diseases can affect almost every part of the human body – yet they remain among the most poorly understood out of any category of illness. Often the symptoms overlap, making them hard to diagnose; most autoimmune patients see 5 doctors over a span of 4.6 years before reaching a correct diagnosis. This campaign will reach patients and professionals alike to educate them on the prevalence of autoimmune diseases, serving as a call to action for more research and effective treatments.
The print component of "Autoimmune Diseases" is distributed within USA Today in New York, Chicago, Washington, D.C., Philadelphia, Boston, Seattle, and Houston, with a circulation of approximately 250,000 copies and estimated readership of 750,000. The publication will be available at industry conferences, awareness walks, and patient advocacy events across the country. The digital component is distributed nationally through a vast social media strategy, and across a network of top news sites and partner outlets. To explore the digital campaign, click here.
Professional cyclist and 2020 Olympic hopeful Mandy Marquardt is teaming up with Mediaplanet to share her story of living with an autoimmune disease. Ten years ago she was diagnosed with Type 1 Diabetes, but she urges her readers not to let their condition hold them back. With Team Novo Nordisk, a global all-diabetes professional cycling team, she is dedicated to raising awareness on Type 1 Diabetes and inspire people to live life to the fullest.
This campaign was made possible with the support of the American Autoimmune Related Disease Association (AARDA), Celiac Disease Foundation, Diabetes Research Institute, US Pain Foundation, Lupus and Allied Diseases Association, Global Healthy Living Foundation, National Infusion Center Association, JDRF, Beyond Celiac, Joslin Diabetes Center, Gluten Intolerance Group, Quest Diagnostics, National Institute of Arthritis and Musculoskeletal and Skin Diseases (NIAMS), National Alopecia Areata Foundation (NAAF), Cali'flour Foods, Celltex, and Simple Mills.
About Mediaplanet
Mediaplanet specializes in the creation of content marketing campaigns covering a variety of industries. We tell meaningful stories that educate our audience and position our clients as solution providers. Our unique ability to pair the right leaders with the right readers, through the right platforms, has made Mediaplanet a global content marketing powerhouse. Our award-winning stories have won the hearts of countless readers while serving as a valuable platform for brands and their missions. Just call us storytellers with a purpose. Please visit http://www.mediaplanet.com for more on who we are and what we do.
Press Contact:
Maureen McCarthy
maureen.mccarthy(at)mediaplanet(dot)com
(646) 979-2836