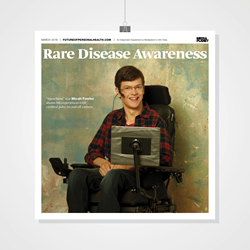 Despite the immense reach or rare disease, research and funding for these conditions is seriously lacking.
NEW YORK (PRWEB) April 10, 2018
Helping to conclude Rare Disease Month, Mediaplanet announced the launch of this March's edition of "Rare Disease Awareness." This campaign will advocate for increased funding for research to advance diagnostics and treatments, as well as increased education about how to better the lives of those living with a rare or undiagnosed condition.
Ten percent of the U.S. population — 30 million people — is affected by a rare disease. Globally, 350 million people suffer from a rare disease or disorder. Despite the immense reach of rare disease, research and funding for these conditions is seriously lacking. So too is advocacy; only 15 percent of rare diseases have organizations or foundations that fund and support them. Given this lack of research, an estimated 95 percent of rare diseases do not have a single FDA-approved drug.
The print component of "Rare Disease Awareness" is distributed within USA Today in the Boston, New York, Chicago, Nashville, Seattle, Pittsburgh/Cleveland, Los Angeles, North and South Carolina markets, with a circulation of approximately 250,000 copies and an estimated readership of 750,000. The digital component is distributed nationally, through a vast social media strategy, and across a network of top news sites and partner outlets. To explore the digital version of the campaign, click here.
The star of ABC's hit show "Speechless," Micah Fowler, graces the cover of the print publication. Through an exclusive interview on the interior, Micah opens up about his life with cerebral palsy (CP) and how the disease affects his acting career. Micah speaks to the generalizations and misconceptions of people with disabilities and how he is combating those through his work on screen. Micah is a spokesperson for the Cerebral Palsy Foundation and continues to raise awareness and educate people about CP. Micah feels hopeful, citing the Casting Society of America's first-of-its-kind open casting call for performers with disabilities. "I do see the tide beginning to change," he shares.
This campaign was made possible with the support of NORD, Rare Diseases United, Rare and Undiagnosed, Undiagnosed Diseases Network, Sema4 Genomics, Novartis, Incyte, Shire, Strongbridge Biopharma, Amicus Rx, Washington University School of Medicine, Envision Genomics and Audentes Therapeutics.
About Mediaplanet
Mediaplanet specializes in the creation of content marketing campaigns covering a variety of industries. We tell meaningful stories that educate our audience and position our clients as solution providers. Our unique ability to pair the right leaders with the right readers, through the right platforms, has made Mediaplanet a global content marketing powerhouse. Our award-winning stories have won the hearts of countless readers while serving as a valuable platform for brands and their missions. Just call us storytellers with a purpose. Please visit http://www.mediaplanet.com for more on who we are and what we do.
Press Contact:
Dana Lenkowsky
dana.lenkowsky@mediaplanet.com
(646) 922-1410