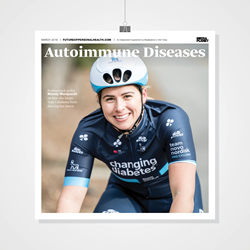 People suffering with auto-immune diseases have to give up so many types of foods to stay healthy.
NEW YORK (PRWEB) April 10, 2018
Mediaplanet announced the Launch of this March's "Autoimmune Diseases" campaign. With the help of leading sponsor Cali'flour Foods, the publication will encourage autoimmune patients with gluten insensitivity to transition to a gluten-free diet.
According to the Celiac Disease Foundation, celiac disease is estimated to affect 1 in 100 people worldwide. The only treatment for celiac disease is a strict gluten-free diet, and if left untreated, celiac patients can develop other autoimmune disorders and other severe health issues. Within this publication, industry experts weigh in on the transition to a gluten free diet. Marilyn Geller, Chief Executive Officer of the Celiac Disease Foundation, states "transitioning to the gluten-free diet may seem overwhelming and challenging at first, but it is a medical necessity." She adds, "patients quickly understand that there is a wide variety of foods that are naturally gluten-free, and when you go gluten-free, it is important to focus on what you can eat rather than what is now off limits."
Amy Lacey, Founder of Cali'flour Foods, shares her experience with autoimmune diseases and why this initiative is close to her heart. "People suffering with auto-immune diseases have to give up so many types of foods to stay healthy. Pizza no longer has to be one of them."
The print component of "Autoimmune Diseases" is distributed within USA Today in New York, Chicago, Washington, D.C., Philadelphia, Boston, Seattle, and Houston, with a circulation of approximately 250,000 copies and estimated readership of 750,000. The publication will be available at the CDF National Conference & Gluten-Free Expo, awareness walks, and patient advocacy events across the country. The digital component is distributed nationally through a vast social media strategy, and across a network of top news sites and partner outlets. To explore the digital campaign, click here.
About Cali'flour Foods
Cali'flour Foods was created in 2016 by founder Amy Lacey. A Lupus diagnosis forced her to change her eating habits - and she realized there were a lot of favorite foods she could no longer enjoy. Missing pizza, she sought out to create a crust that would be good for her and anyone else suffering with an autoimmune disease. Two years later, Cali'flour Food's cauliflower pizza crusts are rated the healthiest pizza crusts in America! These gluten free crusts have only 4 simple ingredients: Fresh cauliflower, egg, cheese, and spices. Each 9" crust is has only 180 calories, 15 grams of protein, and 6 carbs (3 net). The best part? They taste incredible.
About Mediaplanet
Mediaplanet specializes in the creation of content marketing campaigns covering a variety of industries. We tell meaningful stories that educate our audience and position our clients as solution providers. Our unique ability to pair the right leaders with the right readers, through the right platforms, has made Mediaplanet a global content marketing powerhouse. Our award-winning stories have won the hearts of countless readers while serving as a valuable platform for brands and their missions. Just call us storytellers with a purpose. Please visit http://www.mediaplanet.com for more on who we are and what we do.
Press Contact:
Maureen McCarthy
maureen.mccarthy(at)mediaplanet(dot)com
(646) 979-2836