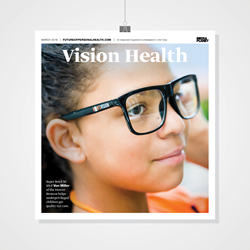 In second or third grade, I had to wear my glasses while I played football. I can relate to kids who want to see better in the classroom or on the field.
NEW YORK (PRWEB) April 10, 2018
Helping to kick off World Glaucoma Week, Mediaplanet announced the launch of March's edition of "Vision Health." This campaign will advocate for readers to get regular eye checkups to diagnose eye diseases early on, while highlighting how patients are able to live happy lives due to the breakthrough treatment methods that have been developed for diseases such as glaucoma.
Globally, 60.5 million people had glaucoma in 2010. Given the aging of the world's population, this number could increase to almost 80 million by 2020. More than 3 million Americans are living with glaucoma, and 2.7 million of whom – aged 40 and older – are affected by its most common form, open-angle glaucoma. One of the biggest issues facing Americans is not the treatment of eye diseases but the prevention of diseases like this by taking action early on and avoiding risk factors associated with eye diseases. About half of the estimated 61 million adults in the United States who are at high risk for serious vision loss haven't visited an ophthalmologist in the past 12 months, according to the Centers for Disease Control and Prevention. Roughly 35 percent of adults don't reach out for an exam because they think their vision is fine.
The print component of "Vision Health" is distributed within USA Today in the Boston, Phoenix, Dallas, South Florida, New York, Los Angeles and Denver markets, with a circulation of approximately 250,000 copies and an estimated readership of 750,000. The digital component is distributed nationally, through a vast social media strategy and across a network of top news sites and partner outlets. To explore the digital version of the campaign, click here.
Former Super Bowl MVP and cover story Von Miller of the Denver Broncos seeks to advocate for regular eye exams and affordable eye care for children through his foundation Von's Vision. Through an exclusive interview on the interior, Miller tells Mediaplanet about his own vision problems in school. "In second or third grade, I had to wear my glasses while I played football. I can relate to kids who want to see better in the classroom or on the field." While Von struggled early on as a kid with inadequate eye care, Von looks to be a source of change through his immense platform, "You can't underestimate the importance of eye exams," he explains. "Roughly 80 percent of what children learn in school is presented visually, so these vision programs can have a profound impact on learning."
Now, through Von's Vision, students in the Denver area can get screened, have an eye exam, shop for frames and receive new glasses in under an hour.
This campaign was made possible with the support of the American Academy of Audiology, American Medical Professionals with Hearing Loss, ACIA (American Cochlear Implant Alliance), AGBA (Alexander Graham Bell Association), HHF (Hearing Health Foundation), Glaucoma Research Foundation, VSP Global, Alcon Pharmaceuticals, Aerie Pharmaceuticals, Santen Pharmaceuticals, Von's Vision (Von Miller of the Denver Broncos) and The Vision Council.
Summary for Search Engines: In support of World Glaucoma Week, Mediaplanet with Von Miller and more, launches Vision Health campaign within USA TODAY and online.
About Mediaplanet
Mediaplanet specializes in the creation of content marketing campaigns covering a variety of industries. We tell meaningful stories that educate our audience and position our clients as solution providers. Our unique ability to pair the right leaders with the right readers, through the right platforms, has made Mediaplanet a global content marketing powerhouse. Our award-winning stories have won the hearts of countless readers while serving as a valuable platform for brands and their missions. Just call us storytellers with a purpose. Please visit http://www.mediaplanet.com for more on who we are and what we do.
Press Contact:
Will Thompson
will.thompson@mediaplanet.com
(646) 922-1417