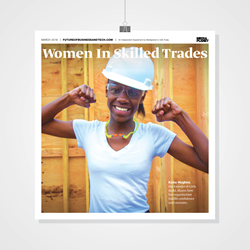 One of the things I love most about what I do now is the people. I get to be on the job site every day, and I get to interact with my clients.
NEW YORK (PRWEB) April 10, 2018
After eight straight years of economic growth within our country, the primary labor concern for many states is no longer the lack of jobs. Rather, the main challenge lies in a severe shortage of technically qualified workers to fill positions in many of our nation's largest and most economically vital industries within the skilled trades sector.
The average age of an American skilled worker is 55+, with over 10,000 of these working men and women retiring every day. The U.S. Bureau of Labor and Statistics forecasts that by 2020, the shortfall of skilled workers in America will reach nearly 10 million within our country. However, trade career paths not only provide ample opportunity for qualified female workers, but offer excellent earning potential for women seeking valuable, interesting careers — without the burden of large student debt post-graduation.
Mediaplanet's Women in Skilled Trades campaign will bring together key celebrities, thought leaders and industry associations to combat the gendered stereotypes surrounding skilled fields and shed light on the exciting, lucrative and impactful career opportunities available to women who pursue a career in a skilled trade.
Within the special issue, read incredible stories of women blazing the trail in the construction, manufacturing, energy and transport industries, including the story of Lillian Watson, a veteran driver for North American Van Lines and one of the trucking industry's first female truckers. This year, Watson celebrates her 90th birthday.
Kim Huston, a licensed architect and general contractor, has found that she can use her contracting business to help rebuild Houston in the wake of Hurricane Harvey. In an exclusive interview, she shares with Mediaplanet why she loves her job in the construction industry: "One of the things I love most about what I do now is the people. I get to be on the job site every day, and I get to interact with my clients. You learn so much about people and the way they live."
"Women in Skilled Trades" hits newsstands on March 9, 2018, and is distributed within the weekend circulation USA Today. To explore the digital version of the campaign, click here.
About Mediaplanet
Mediaplanet specializes in the creation of content marketing campaigns covering a variety of industries. We tell meaningful stories that educate our audience and position our clients as solution providers. Our unique ability to pair the right leaders with the right readers, through the right platforms, has made Mediaplanet a global content marketing powerhouse. Our award-winning stories have won the hearts of countless readers while serving as a valuable platform for brands and their missions. Just call us storytellers with a purpose. Please visit http://www.mediaplanet.com for more on who we are and what we do.
Press Contact:
Kelsey Dimka
kelsey.dimka@mediaplanet.com
(410) 693-1007