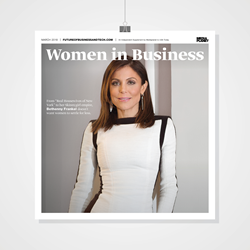 NEW YORK (PRWEB) April 10, 2018
Swinerton believes that a strong workforce is one that is diverse and inclusive, and we know that developing teams that are diverse in experience, background, and thought has kept us on the leading edge of innovation for decades. We are committed to Fair Employment Practices, and Swinerton provides Equal Employment Opportunities for minorities, females, veterans, people with disabilities, and disabled veterans. Carrie Schaeffer, Swinerton Builders Vice President and Division Manager of Aviation says "I've encountered my biggest obstacles due to a hesitancy to act when faced with a challenge. When I reflect on my career, I have more regret about times that I didn't take action than from times that I did. I regularly remind myself to have the courage to move forward."
The construction trades have long been among the industries with the lowest percentage of gender diversity in the workforce. As of 2015, less than three percent of workers in the construction and extraction trades were women. Additionally, according to the Associated Builders and Contractors, 1.6 million new skilled workers will be needed between now and 2022. Schaeffer, says "Building construction is an intersection of technical and business challenges that can be very rewarding to solve. I was an enthusiastic student, strong in math and visualization, with good communication skills. But as a young woman, complex construction was not presented to me as a career option. I discovered it only after arriving at college and I thrived in the Building Science curriculum."
In collaboration with the National Association of Women in Construction, we told the story of Mardi Gauer, who in her mid-forties, went back to school to get a degree in Construction Management. During this time, she worked two jobs, raised two teenagers, took eight hours of classes each semester and studied as much as time would allow. While her schedule was hectic, Mardi says the end result was quite rewarding.
The print component of "Women in Business" is distributed within USA Today in New York, Boston, San Francisco, Los Angeles, Carolinas markets, with a circulation of approximately 250,000 copies and an estimated readership of 750,000. The digital component is distributed nationally, through a vast social media strategy, and across a network of top news sites and partner outlets. To explore the digital version of the campaign, click here.
This campaign was made possible with the support of Bethenny Frankel, Founder of Rent the Runway Jennifer Hyman, Chairwoman of VEON Ursula M. Burns, Founder of BFS Capital Cathy Bass, Vice President of Finance Rose Zhong, Vice President & Division Manager of Aviation of Swinerton Builders Carrie Schaeffer, Mary Kay Cosmetics Chief Marketing Officer of Sheryl Adkins-Green, Vice-President of Enterprise Managed Services Division for Canon of Valerie Belli, Mary Kay Cosmetics, Canon, The Tory Burch Foundation, The U.S. Small Business Administration, National Association of Women Business Owner, Midwest Women Business Owners, The National Association of Women in MBA's, National Association of Women in Construction, International Women's Media Foundation, Equal Right Advocates, National Center for Women and Information Technology, BFS Capital, Swinerton Builders, PagerDuty, Educational Testing Service, The College of Charleston, The State University of New Work -Oswego, San Diego State University, Bowling Green State University, and Shenandoah University.
About Mediaplanet
Mediaplanet specializes in the creation of content marketing campaigns covering a variety of industries. We tell meaningful stories that educate our audience and position our clients as solution providers. Our unique ability to pair the right leaders with the right readers, through the right platforms, has made Mediaplanet a global content marketing powerhouse. Our award-winning stories have won the hearts of countless readers while serving as a valuable platform for brands and their missions. Just call us storytellers with a purpose. Please visit http://www.mediaplanet.com for more on who we are and what we do.
About Swinerton Builders
Since our founding in 1888, Swinerton's success has been built on a foundation of shared values. We are a 100% employee-owned company, so our people have a personal interest in the success of every project. With a culture of collaboration, we work toward a common purpose: to be the preferred builder and trusted partner in every market we serve, proudly leading with integrity, passion, and excellence.
Press Contact:
Brenda Choi
brenda.choi@mediaplanet.com
(646) 518-5423