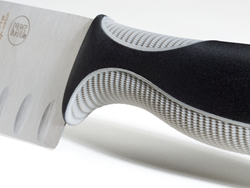 "When designing Dexter Russell's V-Lo line of knives, we created something that could not be copied by the competition: the design of the slip-proof elastomer grip texture."
BOSTON (PRWEB) April 12, 2018
Fourteen years ago, industrial design firm, Catalano Design, teamed up with professional cutlery manufacturer, Dexter Russell, to design Dexter's V-Lo® Line of knives. The V-Lo product line is one of Dexter Russell's most successful to date, setting a standard for grip texture and handle comfort. In its years of work with Dexter and other companies in highly competitive markets, Catalano has repeatedly seen how crucial product design and differentiation are to brand success. These observations have informed Catalano's work, focusing the firm's emphasis on creating unique and innovative solutions for their clients.
"Solving problems for clients is what we do. When we take on a project we put a great deal of thought into finding the combination of branding, design, aesthetics, and user benefits that will make our client's product stand out in the market," says Carol Catalano, president of Catalano Design. "When designing Dexter Russell's V-Lo line of knives, this meant creating a comfortable handle with a recognizable visual profile, and something that could not be copied by the competition: the design of the slip-proof elastomer grip texture."
This week on its site, Catalano outlines design as a central tool for company differentiation, one that – if implemented correctly – has the potential to pay dividends to a company long past the completion of any single product. Read the story here.
About Catalano Design
Founded in 1987, Catalano Design is an award-winning, full-service product design and development firm located in Boston, MA. The company fosters long term relationships by working closely with clients to understand their culture, their technology, and their markets. The company's philosophy is that good design is a careful balance of art, science, and craft supported by exceptional, user-centered research. This philosophy is expressed through a design process that focuses on user experience, ergonomics, out-of-the-box thinking, and sound execution.
Catalano Design has created successful designs for many clients who are recognized leaders in their respective markets, including Samsung, Herman Miller, Geiger International, Dexter Russell, D'Addario, Fishman, Hifiman, Essio, Zildjian, Russound, Boston Acoustics, Sunfire, Bay Audio, Pro Brand International, and the Institute for Human Centered Design. Catalano's work has been recognized by IDEA, the ID Magazine Awards, the European Product Design Awards, Business Week, Interior Design Magazine, Abitare, A Place to Sit Competition, and the International Furniture Design Competition. Learn more at http://www.catalano.design.