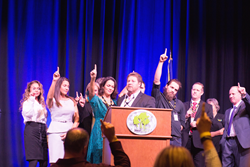 "In my experience, very few offenders will admit to the crime, but I have yet to actually see an offender deny the grooming," said Danny Clark, Bonneville County Prosecutor. "They will always tell you how much they took care of this child, how much they loved him/her."
BOISE, Idaho (PRWEB) April 12, 2018
Almost 700 people filled the Boise Centre on Monday night. According to national statistics, a crowd of that size would have nearly 150 adults that have been sexually abused at some point in their childhood.
Building Hope Today hosted its second annual Community Outreach Conference on Monday, April 9, 2018 in Boise. The conference brought awareness to the alarming prevalence of childhood sexual abuse – 1 in 4 women and 1 in 6 men – the need for better education of grooming tactics used by abusers and the signs that grooming is happening to a child. After a successful first conference in Idaho Falls, the Building Hope Today team was asked to bring the event to the Treasure Valley.
"In my experience, very few offenders will admit to the crime, but I have yet to actually see an offender deny the grooming," said Danny Clark, Bonneville County Prosecutor. "They will always tell you how much they took care of this child, how much they loved him/her."
One of Building Hope Today's main goals is to better educate legal experts and first responders on grooming tactics and to encourage using grooming as evidence to prosecute abusers. When the victim of sexual abuse is a child, that victim is manipulated, scared and confused, making it difficult to come forward and disclose that abuse is happening. This is why child sexual abuse often goes undetected until the child is an adult, if at all.
"We are successfully prosecuting 6 percent of child sex abuse cases across this country. Why? Because the average time in which someone discloses this is over 20 years," explained Clark. "These cases are not done with an audience, they are done in secret."
"We don't want to consider that it might be in our families. It might be a trusted friend. It might be a trusted neighbor that is hurting our children," said Matt Morgan, co-founder of Building Hope Today. "It is terrifying to consider that it just might be possible that we know someone close to us that is capable of doing this to an innocent child. Reality is, they are amongst us."
Another key topic addressed at the conference was focused on the ways we can help adults harmed by childhood abuse find a path of hope and healing for a better tomorrow.
"Imagine with me for a moment what things could look like one generation from now. If we could achieve raising a generation without sexual abuse, the results will be profound," Morgan continued. "There will be less addiction issues. There will be less homeless without hope. Mental health issues will lessen. We will not need to bury so many young kids to suicide. I can guarantee that with these young kids committing suicide, childhood sexual abuse is a large part of the problem."
Building Hope Today has a mission to create awareness of childhood sexual abuse, reveal its lasting effects and build a hope-filled tomorrow for survivors. The nonprofit has three charters within its education program to safeguard children today: a family track, a legal track and a victim track. To download resources and learn more about Building Hope Today's charters, visit http://www.buildinghopetoday.org/about-us.
If you or someone you know has experienced abuse and needs help, contact Building Hope Today for support and resources at http://www.buildinghopetoday.org.