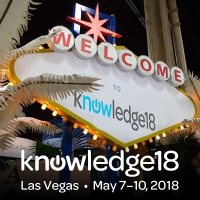 We're looking forward to connecting with our customers at Knowledge18 and the opportunity to meet so many more people we can help. –Tim Ancona, CEO of Aptris
ROCKFORD, Ill. (PRWEB) April 11, 2018
Aptris announced today it is a Silver sponsor of ServiceNow's Knowledge®18 conference, running from May 7–10 at The Venetian in Las Vegas, Nevada. Aptris will be in booth #1213.
Knowledge18 is projected to have over 15,000 attendees and over 200 exhibitors, making it the largest gathering of IT professionals using cloud services for enterprise IT service automation. This will be Aptris' sixth year to sponsor the event.
Aptris invites attendees to its booth to discuss how Aptris can help them transform the way service management is delivered throughout their organization, from IT to HR and beyond.
While at the booth, attendees can also compete in the PUTTSKEE CHALLENGE—a combination of putting and skeeball—and get their name on the digital leaderboard for several chances to win prizes.
"ServiceNow continues to expand their reach throughout the enterprise, and we're excited about how we're able to do so much more for customers by combining the tool with industry best practices," said Tim Ancona, CEO of Aptris. "We're looking forward to connecting with our customers at Knowledge18 and the opportunity to meet so many more people we can help."
One of Aptris' customers will be a featured speaker at Knowledge18. Mark Baker of Faith Technologies will present a case study of how ServiceNow has impacted his Menasha, WI-based electrical contracting company. With more than 90 percent of the sessions delivered by ServiceNow customers like Mark, Knowledge is a great way for IT professionals to learn from peers and share experiences in implementing and expanding ServiceNow and across their enterprises.
The conference can be followed on the ServiceNow Community and on Twitter #Know18 and @Know365.