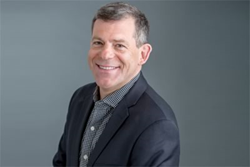 "PRSM's Lifetime Achievement Award reflects more than just achieving a level of proficiency and skill. It honors individuals who have a passion and commitment for the industry and are willing to share that vision and knowledge with others for the good of the industry. " - Bill Yanek - PRSM CEO
NASHVILLE, Tenn. (PRWEB) April 11, 2018
The Professional Retail Store Maintenance Association, (PRSM), the authority on retail, multi-site facilities management, announced today that Steven Gottfried, the Founder and former CEO of ServiceChannel, is the recipient of the 2018 Lawrence W. Whelan PRSM Lifetime Achievement Award.
The award was presented Tuesday, April 10, during PRSM2018 National Conference, in Nashville, TN. The award honors Gottfried's dedication and service to the retail facilities maintenance industry and his continuous commitment to serve his colleagues.
Gottfried began his career industry as intern and service technician, in the late 1980's, working for Gotham Air Conditioning. His passion for computers and computers led him to found his first service company, Contractor Technologies.
As internet usage grew, Gottfried recognized how it could be used to help facilities managers and service companies collect and collaboratively use data to improve facility performance. This observation, turned fascination, served as the foundation for ServiceChannel, a company that today serves 450 brands, managing 50,00 service providers across 220,000 locations in 76 countries. The company was recognized as PRSM's 2011 Supplier of the Year.
He joined PRSM in 1999 and has served on Advisory Boards and committees, and on the PRSM Board of Directors. Based upon his international expertise, he served on the European Committee and participated in the first PRSM event in London.
Gottfried has witnessed an evolution across the industry. "Retail is evolving and the online revolution will continue," he said. "Retail will have to adapt, adopt new models, develop a well-trained, mobile workforce and be innovative. It is up to us to capture the attention of tomorrow's workforce and to highlight the exciting opportunities this industry has to offer," he emphasized.
"PRSM's Lifetime Achievement Award reflects more than just achieving a level of proficiency and skill. It honors individuals who have a passion and commitment for the industry, as well as a vision and are willing to share that vision and knowledge with others for the good of the industry. We are pleased to recognize Steven's leadership, innovation and passion with this award," said PRSM CEO, Bill Yanek.
The Lawrence W. Whelan PRSM Lifetime Achievement Award recognizes extraordinary accomplishments by PRSM members who have distinguished themselves by career-long contributions to the retail facilities management profession. This award was created in 2008 and was presented to the Whelan Family in honor of Larry Whelan as the Award's first recipient.
About the Professional Retail Store Maintenance® Association (PRSM)
PRSM Association, the authority on Retail and Multi-site Facilities Management, is the leading membership organization for retail facilities and supplier professionals. PRSM empowers the Retail Industry facilities management with best practices, benchmarking, education, discussion forums and trusted partnerships. Chartered in 1995, and with almost 1,000 member companies, the PRSM community values are founded on a spirit of innovation, resourcefulness, the quest for knowledge and ethical business relationships. Members depend on PRSM to help them achieve greater success and a competitive advantage through quality programs and resources. Visit prsm.com for more information.