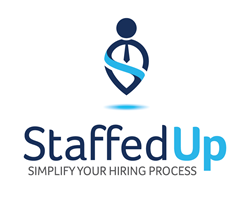 StaffedUp's staffing tool is competitively priced at $29 a month and is designed to recruit, manage, and hire the most qualified staff.
COLUMBIA, Mo. (PRWEB) April 13, 2018
StaffedUp, a simplified recruiting software built to help hospitality employers attract top candidates, announces their partnership with Hotshots Sports Bar & Grill, an interactive dining venue spanning the Midwest. Over the last 20 years, Hotshots has become a leader in the marketing of products and a dynamic trend setter whose concept is continually mimicked in sports bars throughout the country. With 15 locations, and growing, Hotshots was looking for a way to organize and streamline their hiring process across the board -- that's where StaffedUp comes in.
Hotshots is known for two things: their signature hot wings and quality service. What sets them apart from the rest is their hands-on approach to define and refine operational procedures to maximize profitability. Featuring a diverse menu, nightly promotions, and a variety of bar games and brews on tap, there are a lot of moving parts to keep Hotshots running smoothly. StaffedUp's customizable tool makes the time-consuming process of posting jobs, compiling candidates, and networking with talent stress-free through an efficient hiring database. To ensure the level of professionalism and fun is always up to par requires Hotshots to have the best talent on their team.
Employee churn is common for companies in the restaurant and food service industry. With the help of StaffedUp's software, Hotshots can get ahead of the game by having a pool of qualified candidates ready to hire during those inevitable turnover situations. Hotshots can now find and hire job seekers with ease for common roles such as a server, cook, bartender, and bouncer. Applicants can apply for open positions directly on Hotshots' website by location, eliminating piles of resumes and using expensive outside job boards. StaffedUp's staffing tool is competitively priced at $29 a month and is designed to recruit, manage, and hire the most qualified staff.
As a family-owned company, where many of their management and employees have been with them for well over 10 years, it is important to the Hotshots franchise that their staff shares the same beliefs and practices that got them to where they are today. Using StaffedUp's hiring database, Hotshots can implement pre-qualifying questions and position requirements that help in reducing wasted time, money and energy with staff that just doesn't fit. Interviewing and screening candidates just got a lot easier for Hotshots!
Check out Staffedup.com to try their platform for free, list your open roles and fill them with the exact talent you are looking for. StaffedUp continuously works to add value and support to ensure that all companies using their software get better staff, decreased turnover and a visible ROI.
About StaffedUp: Created by hospitality professionals who understand hospitality hiring. StaffedUp is a web-based staffing platform designed for the service industry to accelerate the hiring process for both sides. Learn more about their customizable hiring platform at https://www.staffedup.com to network talent efficiently and effectively.
About Hotshots Sport Bar & Grill: Family owned for over 25 years, Hotshots offers a one of a kind sports bar and grill experience. With locations in Missouri, Illinois, North Carolina and Arkansas, Hotshots is proud to be the place for sports fans for all the games, all the time. https://www.hotshotsnet.com/