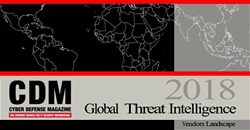 By using Artificial Intelligence (A.I.), Machine Learning, Human Intelligence (HUMINT) and Cloud-based Global Feeds, Threat Intel may reach the speed necessary to enhance traditional information security countermeasures and proactively defeat breaches, finally," said Pierluigi Paganini
WASHINGTON (PRWEB) April 11, 2018
Cyber Defense Magazine (CDM), the industry's leading electronic information security magazine announces the availability of its first annual Global Threat Intelligence Vendor Landscape report for 2018, naming the market leaders in major countries for Threat Intelligence.
"With the advances in cyber crime, zero day malware, advanced persistent threats and ransomware, we searched for the market leaders who could proactively help you get ahead of the next breach by providing incredible infosec knowledge in real-time threat intelligence feeds. We're very pleased to announce the availability of this critical report for cyber security," said Gary S. Miliefsky, Publisher of Cyber Defense Magazine and globally recognized keynote speaker and cybersecurity expert.
Global Threat Intelligence Leaders selected by CDM include:
USA: FireEye and CrowdStrike
Japan: TrendMicro
China: Threatbook
Russia: Group IB and Kaspersky
UK: Sophos
Europe: Digital Shadows
Africa/Middle East: CheckPoint
The entire 26 page report is freely available online at:
http://www.cyberdefensemagazine.com/global-threat-intelligence-vendor-landscape-for-2018/
with a limited number of printed copies available @RSAConference - the RSA Conference 2018 - on April 16, 2018 in San Francisco, California.
By using Artificial Intelligence (A.I.), Machine Learning, Human Intelligence (HUMINT) and Cloud-based Global Feeds, Threat Intel may reach the speed necessary to enhance traditional information security countermeasures and proactively defeat breaches, finally," said Pierluigi Paganini, Editor-in-Chief, Cyber Defense Magazine.
About Cyber Defense Magazine
With over 1.2 Million annual readers and growing, Cyber Defense Magazine is the premier source of IT Security information. We are managed and published by and for ethical, honest, passionate information security professionals. Our mission is to share cutting-edge knowledge, real-world stories and awards on the best ideas, products and services in the information technology industry. We deliver electronic magazines every month online for free, and limited print editions exclusively for the RSA conferences and our paid subscribers. Learn more about us at http://www.cyberdefensemagazine.com. CDM is a proud member of the Cyber Defense Media Group.