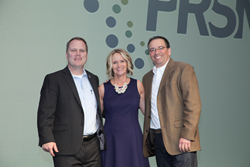 NASHVILLE, Tenn. (PRWEB) April 11, 2018
The Professional Retail Store Maintenance Association, (PRSM), the authority on retail, multi-site facilities management, announced the winners of the 2018 Volunteer of the Year Award, Service Excellence and Retail Sustainability Awards. All award winners were recognized during the PRSM2018 National Conference in Nashville, TN.
The PRSM Volunteer of the Year Award is presented to a member who has distinguished themselves by elevating the association through their active engagement and leadership of PRSM Impact!, the official PRSM charity. PRSM is proud to select Lynn Harnishfeger, Director of National Accounts, Springwise Facility Management, as the 2018 Volunteer of the Year.
Harnishfeger has been a PRSM member since 2001. She served as a Board Member twice, once as a retailer and once as a supplier, and dedicated many hours serving on multiple committees throughout the years. She was a founding member of the PRSM Impact Charity Steering committee, which helped bring the PRSM Foundation to life. She served as a liaison between the Charity committee and the PRSM Board, and now serves as the PRSM Foundation Board Secretary.
The PRSM Innovation in Sustainability Award recognizes PRSM retail member companies with outstanding sustainability programs that deliver exceptional results. PRSM is proud to award Target and TD Bank the Innovation in Sustainability Award.
Target continues to innovate their sustainability efforts by installing and improving solar energy systems at individual stores. Solar energy now provides 30 percent of each store's energy needs, and Target continues to invest in additional renewable energy sources. These programs will offset approximately 13 percent of Target's total energy usage with clean wind energy.
On a local level, the Target Car Seat Trade-In event, conducted in April 2017, recycled nearly 80,000 car seats, which prevented more than one million pounds from entering the waste stream. This is one just component of Target's overall goal to divert 70 percent of their retail waste from landfills through reuse or recycle programs by 2020.
TD Bank earned the PRSM Innovation in Sustainability Award for their reduction in operational costs and water consumption across 280 North American sites. Through real-time updates, based upon rainfall forecasting, evapotranspiration, and site-specific landscape profiles – TD Bank decreased in water consumption by one percent in the U.S., which is equivalent to four Olympic-sized swimming pools, as well as a 14 percent YoY savings against the baseline year.
PRSM presented the Service Excellence award to Marc Balzamo, Fexa | Facilities Exchange and Brian Foster, The Paint Folks. Balzamo has been a passionate PRSM supporter through Retailer2Retailer initiatives, hosting PRSM LIVEs and multiple sponsorships. Foster has been a driving force in establishing Veteran recruitment programs across the FM industry. He is working closely with PRSM to establish a veteran hiring initiative featured on PRSM.com.
For more information about PRSM, visit http://www.prsm.com. For more information about PRSM2018 National Conference, visit http://www.prsmnational.com.
###
About the Professional Retail Store Maintenance® Association (PRSM)
PRSM Association, the authority on Retail and Multi-site Facilities Management, is the leading membership organization for retail facilities and vendor professionals. PRSM empowers the Retail Industry facilities management with best practices, benchmarking, education, discussion forums and trusted partnerships. Chartered in 1995, and with approximately 950 member companies, PRSM community values are founded on a spirit of innovation, resourcefulness, the quest for knowledge and ethical business relationships. Members depend on PRSM to help them achieve greater success and a competitive advantage through quality programs and resources.