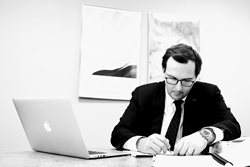 I'd just like to say thanks to the nominating body for this distinction and recognition. I'm honored and humbled to be part of such a select group of Missouri attorneys.
ST. LOUIS (PRWEB) April 12, 2018
St. Louis criminal defense attorney Christopher Combs has been selected as a member of Top 40 Under 40 Trial Lawyers in the state of Missouri. The Top 40 Under 40 is a prestigious professional organization comprised of the best 40 trial attorneys in criminal defense law within each state across the United States. Membership is limited to those attorneys who exemplify excellence as criminal defense lawyers, have demonstrated outstanding leadership and influence, and have built strong reputations within their community.
As stated on the Membership website:
"Membership is extended solely to the select few of the most qualified attorneys from each state who demonstrate superior qualifications of leadership, reputation, influence, stature and public profile measured by objective and uniformly applied standards in compliance with state bar and national Rule 4-7. Invitees must exemplify superior qualifications, trial results, and leadership as a young lawyer under the age of 40. Selection is based on a thorough multi-phase objective process which includes peer nominations combined with third-party research.
Each of our distinguished Top 40 under 40 members strives to encompass the knowledge, skill, experience and success held by only the best lawyers in America. It is our mission to promote a unique and professional networking opportunity for young lawyers, while developing progressive ideas to pursue justice for those injured by the negligence of others, to educate the public about the importance of access to courts that are free of bias and undue influence, and to protect the right of trial by jury."

Christopher and firm Combs Law Group have built up a strong reputation within the local St. Louis legal community for being strong client advocates and obtaining favorable results for clients. Christopher began his career at a local powerhouse of criminal defense law, Rosenblum, Schwartz, Rogers, & Glass P.C. in early 2014. But it wasn't long before Christopher decided to pursue his dream of running his own firm so that he could deliver a personalized approach of legal representation to St. Louis clients. Christopher earned his juris doctorate degree from Saint Louis University Law School, and that's not the extent of his local ties. Christopher was born and raised in St. Louis and he attended Country Day High School. So he has an emotional attachment to St. Louis and has strong local connections within both the general community and also the legal community.
Combs Law Group offers access to St. Louis DWI Lawyers, St. Charles DWI Lawyers, St. Louis Criminal Defense Lawyers, St. Charles Criminal Defense Lawyers, and criminal defense lawyers for other St. Louis area residents. Located in the heart of Clayton, Combs Law Group provides all prospective clients with a free initial consultation.