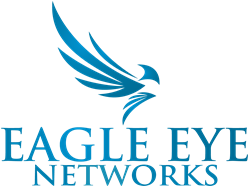 We are excited to see Eagle Eye Networks adding body worn cameras to its system. The management of body worn video is cumbersome and unreliable from a storage perspective. The Cloud makes it so much easier to store and retrieve evidentiary video
AUSTIN, Texas (PRWEB) April 11, 2018
Eagle Eye Networks, Inc. announced the enhancement of the Eagle Eye Cloud Security Camera VMS to include the integration of Hikvision body worn cameras. The new Eagle Eye solution provides ease, reliability, and cybersecurity to body worn camera users seeking to synchronize and store video for extended periods in the cloud.
The Eagle Eye Cloud Security Camera VMS will retrieve video and GPS data through a docking station connected to any Eagle Eye Bridge or Cloud Managed Video Recorder (CMVR) and securely transmit the video to the Eagle Eye Cloud Data Center. The body worn camera and its video appears in the Eagle Eye Customer Dashboard along with any fixed cameras attached to the system and can be reviewed, managed, and analyzed.
Eagle Eye Networks' customers have requested the integration of mobile cameras into the Eagle Eye interface to enable the combination of fixed position cameras with mobile cameras to better serve specific applications. Law enforcement, guarding services, health care, retail management, training, warehouse management, and other service-oriented verticals create considerable value and reduce risk through the reliable and secure management of surveillance video in the Cloud. Several of Eagle Eye Networks' high-tech customers are using mobile video for business optimization in robotics, manufacturing, emergency room management, and home care medical services. The challenge surrounding body worn and other types of mobile cameras has always been the lack of scalable, cost effective, redundant storage. The Eagle Eye Cloud Security Camera VMS offers subscription based storage for any time period.
Lieutenant Kevin Francis, Head of the Bay County Sheriff's Office Drug Enforcement Division stated, "We are excited to see Eagle Eye Networks adding body worn cameras to its system. The management of body worn video is cumbersome and unreliable from a storage perspective. The Cloud makes it so much easier to store and retrieve evidentiary video."
The use cases for body worn cameras are endless. Body worn cameras began gaining momentum in law enforcement and private security, but there are other business optimization benefits these cameras provide. Businesses using body worn cameras have been able to improve profitability, communication, and customer service by using the footage to provide scenario-based training to employees. In the retail industry, for example, body worn camera users are witnessing a decrease in customer standoffs and reduced claims against stores based upon readily available visual evidence.
According to Dean Drako, CEO of Eagle Eye Networks, "Eagle Eye Networks is the industry's go-to supplier of cloud video surveillance. One of the many advantages of a cloud-based video management system is the ability to coalesce a wide variety of video collecting devices within a single user experience. Eagle Eye Networks will remain the leader in offering innovative solutions to combine connected, remote, and mobile-based camera technologies."
To learn more about Eagle Eye Networks, visit http://www.EagleEyeNetworks.com or contact +1-512-473-0500 or +316 46 27 32 51.
PRESS CONTACTS
NORTH AMERICA
Deborah Demarchi
ddemarchi(at)eagleeyenetworks(dot)com
+1-512-473-0500
EUROPE
Xander Van Baarsen
xvanbaarsen(at)eagleeyenetworks(dot)com
+316 46 27 32 51
ABOUT EAGLE EYE NETWORKS
Founded in 2012, Eagle Eye Networks, Inc. ('Eagle Eye') is the leading global provider of cloud-based video surveillance solutions addressing the needs of businesses, alarm companies, security integrators, and individuals. Eagle Eye's 100% cloud managed solutions provides cloud and on premise recording, bank level security and encryption, and broad analog and digital camera support – all accessed via the web or mobile applications. Businesses of all sizes and types utilize Eagle Eye solutions for operational optimization and security. All Eagle Eye products benefit from Eagle Eye's developer friendly RESTful API platform and Big Data Video FrameworkTM, which allow for indexing, search, retrieval, and analysis of live and archived video. Eagle Eye's open Video API has been widely adopted for integration in alarm monitoring, third party analytics, security dashboards, and point of sale system integrations.
Eagle Eye sells its products through authorized global resellers and installation partners. Headquartered in Austin, Texas, USA, Eagle Eye has offices in Europe and Asia. For more information, please visit http://www.EagleEyeNetworks.com or call +1-512-473-0500 or +316 46 27 32 51.