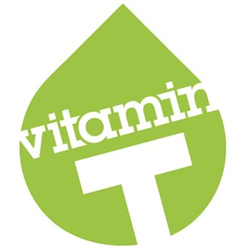 LOS ANGELES (PRWEB) April 11, 2018
Vitamin T is excited to announce its sponsorship of the 2018 HOW Design Live conference taking place in Boston, MA on April 30th through May 3rd. The highly anticipated conference will be held at Boston's prestigious Hynes Convention Center and features powerful keynotes and world-class speakers who will delve into topics that range from strategic storytelling to workflow hacks. Vitamin T is sponsoring this event along with its associated brands Aquent, Aquent Gymnasium, Aquent Studios, and RoboHead.
The 2018 HOW Design Live conference is one of the largest gatherings of creative professionals in the world and will feature more than 100 educational keynotes and sessions led by the best creative professionals in the industry today. According to president of Vitamin T Susie Hall, "HOW Design Live is all about helping designers, marketers, and other creative professionals develop skills, use technology to solve challenges, and advance their careers. It aligns perfectly with what we offer through our brands." Attendees will have the rare opportunity to preview new software and tools, check out new technologies, and gain direct access to products relative to the work they do.
This year's conference will also feature special supplementary events like networking happy hours, table topic discussions, speed coaching, and even a mindfulness session. More than 4,000 people from across the U.S. and from dozens of countries worldwide will be in attendance for this year's conference in Boston.
Vitamin T encourages digital professionals who are established as well as new to the field to attend the conference. As Hall said, "From job opportunities to project management software to free online learning, we'll have representatives from all our companies on hand to answer questions and help attendees maximize their career potential." She added that attendees will gain career-changing knowledge that can enhance their careers and propel them in new and exciting directions. The conference provides a dynamic platform for networking with other digital creatives working in the field today. Attendees come to learn, collaborate, and contribute to what has become one of the premier events driving the creative digital industry forward.
If you are interested in attending the 2018 HOW Design Live conference, a full schedule of the conference and lodging is currently available on their website.
About Vitamin T
Vitamin T is the talent agency for digital creatives. We personally meet each of our candidates face-to-face and conduct hands-on assessments and full portfolio reviews to ensure our talents' skills are best in class. We provide subsidized medical, dental, and vision benefits, as well as a 401(k) plan—not to mention free online training through Aquent Gymnasium. And because we're local, you'll always have highly qualified candidates as fast as humanly possible. To learn more, please visit vitamintalent.com.
Contact Details:
Tim Donnelly, Media Contact
Phone: 323.475.7372
Email: tdonnelly(at)vitamintalent.com
Address: Vitamin T
5670 Wilshire Blvd #1000
Los Angeles, CA 90036
Web: vitamintalent.com
Source: Vitamin T
###