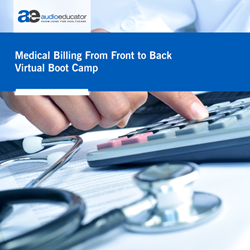 Hold third-party payers accountable for their share of the bills—and collect every dollar you're owed in the most efficient and compliant manner!
DURHAM, N.C. (PRWEB) April 12, 2018
AudioEducator, a division of audio conference and corporate education leader ProEdTech, will host the live webinar "Medical Billing from Front to Back —Virtual Boot Camp" with industry veteran Barbara J. Cobuzzi on Wednesday, April 25, 2018 at 12:00pm ET.
If yours is like most practices, you're probably seeing more and more patients with high-deductible plans, HSA policies, and other third-party payers that work hard to delay payments—or, worse, not pay at all. To overcome these obstacles, you must optimize collections.
Learn how in this information-packed webinar with expert speaker Barbara J. Cobuzzi. In this four-hour boot camp, she will cover all the key elements a successful medical billing operation needs to put in place—from the time the patient makes his appointment until you receive payment in full. This boot camp will highlight the crucial steps to take to ensure your practice gets the payments it deserves for services rendered.
After attending this virtual boot camp, you will understand how to set up your practice's processes to improve your collections—and optimize your compliant revenue. You will have the tools to hold third-party payers accountable for their share of the bills. Most important, you will be equipped to collect every dollar you're owed in the most efficient and compliant manner!
This event—which consists of two 120-minute sessions—will help medical office administrators, billers, and physicians to:

Assemble a billing dream team (hint: find out who affects your billing process).
Discover the insurance-verification tricks that you've never heard about before.
Learn how to make crucial check-out decisions so you can start collecting the money ASAP.
Steer clear of billing fraud pitfalls.
Understand all the key rules: AMA coding, CMS and payer rules, and more!
Learn to protect your practice from common payer no-pay or under-pay excuses.
Employ the secrets to achieving a 100% success rate on appeals to CMS and private payers for rejected claims.
For more information and to register, visit: https://www.audioeducator.com/virtualbootcamp/medical-billing-from-front-to-back
Get $40 off on our conferences and webinars. Use Code PRWEB40 on checkout (applicable for all purchases).
About ProEdTech
ProEdTech is a leading source of knowledge and training for professionals in over 15 industries, serving individuals, businesses and their employees around the globe. It offers webinars, online conferences, seminars, boot camps, books, DVDs, white papers, industry reports and other learning tools from industry experts and insiders who provide a fresh perspective on key issues, trends and regulations in order to simplify governance, risk and compliance (GRC) for enterprises and industry professionals. ProEdTech's AudioEducator webinars offer updates, regulatory knowledge and information on the latest news in various medical specialties, as well as coding and billing updates, and analysis of regulations that affect ambulatory surgical centers, home health, long term care and hospice facilities, hospitals and healthcare systems, health insurers and physician practices. Webinars are also offered through AudioSolutionz in the technology, human resources, construction and housing, ICT and telecom, manufacturing, consumer packaged goods and retail, safety and security, transportation, energy and environment, education, trade, and chemicals industries. ProEdTech's Eli Financial platform offers tax and banking professionals, focusing on providing high-quality online training products customized for U.S. lenders and tax practitioners that include the latest updates from the IRS, CFPB and other regulatory authorities. ProEdTech regularly provides professionals the opportunity to get answers to their most complex questions directly from experts, without having to attend costly live conferences. To learn more, visit: http://proedtech.com.