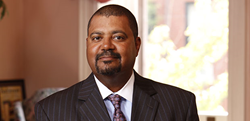 Notes Mr. Staton, "I chose the practice of law as a profession because of a desire to serve the community and to provide equal access to justice for persons most deserving but without financial resources."
BALTIMORE (PRWEB) April 13, 2018
Established in 2001 by The Daily Record, the Leadership in Law Award highlights the commitment and accomplishments of legal professionals who lead their community through exemplary legal service, mentoring, and community outreach.
Practicing since 1980, Mr. Staton has built a distinguished career of legal and community service, consistently receiving recognition and accolades reserved for attorneys who not only win cases for their clients, but display exceptional humanitarian service to others.
Mr. Staton has a compelling list of honors, appointments, and awards. He also serves as a Commissioner on the Attorney Grievance Commission and provides tireless service to the Maryland Volunteer Lawyers Service (MVLS). He has lectured widely and has offered legislative testimony on issues of law, medicine, and tort reform.
Recognizing the second-class treatment often suffered across-the-board by the poor and indigent, Mr. Staton works hard in his professional and volunteer life to obtain justice and provide positive support even as clients face irreparable injury.
Notes Mr. Staton, "I chose the practice of law as a profession because of a desire to serve the community and to provide equal access to justice for persons most deserving but without financial resources."
Recipients of the award are nominated by readers of The Daily Record, bar associations, area law firms, chambers of commerce, and legal and business communities at large. After being nominated, the winners of the Leadership in Law Award are chosen by a panel of legal and business leaders in Maryland.
"Our Leadership in Law honorees are committed to excellence. They work tirelessly to uphold high legal standards in Maryland and devote much time serving as mentors to the next generation of legal professionals," said Suzanne Fischer-Huettner, publisher of The Daily Record. "The recipients of our Lifetime Achievement Award are well-respected members of Maryland's legal community who stand out for their professionalism and dedication to mentoring. We at The Daily Record are pleased to recognize the achievements of all our honorees."
Mr. Staton and others awarded the 2018 Leadership in Law Awards will be honored at the annual Leadership in Law celebration event on May 17, 2018 at the BWI Hilton.
Founded in 1984, the law firm of Schochor, Federico and Staton, P.A. delivers dedicated representation to individuals and groups of people who are the victims of medical malpractice, negligence, and the wrongful acts of others.
Schochor, Federico and Staton, P.A guided the largest class-action settlement in state history and has recovered over a billion dollars on behalf of its clients.
With offices in Baltimore and Washington, D.C., firm lawyers are licensed to practice in Maryland and the District of Columbia, and have been specially admitted on a case-by-case basis by courts in Florida, Nevada, Pennsylvania, New Jersey, Delaware, North Carolina and West Virginia.