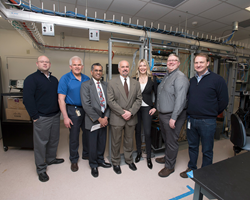 We're committed to ensuring the lab has the latest resources available to help students stay current in this evolving industry.
(PRWEB) April 12, 2018
REDCOM announced today a donation of the company's flagship call control software, Sigma Core, to the Rochester Institute of Technology College of Applied Science and Technology. The software will become an integral part of the REDCOM Advanced Telecommunications System Laboratory. Established in 2008, the telecom lab contains a full spectrum of hardware and software commonly found in a telephone company's central office, and is used by students and faculty to support coursework and research.
"REDCOM and RIT are partners for the long haul," said REDCOM President and CEO Dinah Gueldenpfennig Weisberg. "Our contributions to the REDCOM Telecommunications System Lab at RIT will have a direct impact on students seeking a career in the world of telecom. We're committed to ensuring the lab has the latest resources available to help students stay current in this evolving industry."
"RIT alumni and Co-Op students have played an integral part in the design, development and testing of Sigma Core," said REDCOM Director of Engineering, Jeff Smith. "It seems only fitting that we would make it available to the telecommunications lab at RIT to help educate future generations of students."
"The REDCOM Sigma Core platform gives the students in our Telecommunications Engineering graduate program the opportunity to develop IP switching applications and reduces the equipment footprint in our telecommunication lab," said Mark Indelicato, Professor of Electrical Computer and Telecommunications Engineering Technology, RIT. "Though TDM switching still exists, IP and SIP-based technology have become the predominant platform going forward. REDCOM's Sigma Core software allows us to augment our curriculum to include modern network applications and software-based architectures for provisioning services."
REDCOM Laboratories Inc. has several strong ties with RIT going back many decades. Company President and CEO, Dinah Gueldenpfennig Weisberg, earned two degrees from RIT: a MS in software development and management in 1997 and an Executive MBA in 2003. REDCOM founder Klaus Gueldenpfennig is the Chairman of REDCOM and is an RIT trustee emeritus. He graduated from RIT with a MS in engineering in 1974 and an MBA in 1977. Brigitte Gueldenfpennig, Mr. Gueldenpfennig's wife, received her MBA from RIT in 1981 and is the company's secretary and treasurer.
About REDCOM
REDCOM is a woman owned small business that specializes in the design and manufacture of innovative communications solutions with a focus on security, interoperability, and reliability. Located in Victor, New York, REDCOM's global customer base includes commercial telecom carriers, private networks, integrators, and government and defense agencies. For additional information, please visit the REDCOM website at http://www.redcom.com.