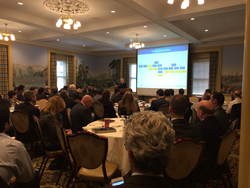 "The opportunity to collaborate with one's peers on technology challenges we jointly face is both valuable and rare, and it is just this type of collaboration the WSTA continues to foster to the benefit of its members." Joseph Kennedy, PwC
NEW YORK (PRWEB) April 17, 2018
The Wall Street Technology Association (WSTA®), a not-for-profit organization that provides Financial Industry professionals a forum to learn from and connect with each other, will host a seminar on "Digital Technologies and their Impacts on Business Transformation" on April 26, 2018 in New York City. Speakers at this event include Keynote: Joseph Kennedy, PwC; Premier Speaking Sponsor: Box; Luncheon Speaking Sponsor: NTT DATA; Speaking Sponsors: K2, Nexthink, ServiceNow, Tamr, Workfront; and Platinum Sponsor: Magenic. For more information, please visit: https://www.wsta.org/events/event/digital-technologies/
"I am pleased to have the honor of giving the keynote for the WSTA again. I have found their events to be among the best at informing Financial Services professionals of the newest technologies and innovations," says Joseph Kennedy. "The opportunity to collaborate with one's peers on technology challenges we jointly face is both valuable and rare, and it is just this type of collaboration the WSTA continues to foster to the benefit of its members."
Seminar Overview
Today's connected world of digital technologies (mobile, cloud, social media, big data analytics, IoT, RPA, AI) impact our lives and evolve at an ever-increasing pace. If there was ever an industry where digital is not just first but full-steam ahead, it's the Financial Services industry, where firms are finding new ways to make spending, managing, and investing our hard-earned money even easier than ever before.
This seminar will share experiences with technology disruptors in the market and highlight the impact on Financial Services firms and techniques to adapt. It will also review the new frontiers where big changes are happening, the core elements of the businesses affected by change, and the foundations needed to support that change.
About the Wall Street Technology Association (WSTA)
For over 50 years, the Wall Street Technology Association (http://www.wsta.org) provides Financial Industry professionals, vendors, service providers, and consultants forums to learn from and connect with each other. The WSTA facilitates seminars and networking events where members meet and exchange ideas and best practices that assist them in effectively capitalizing on technology advances and dealing with financial industry business challenges. Founded in 1967, the WSTA is a not-for-profit association with a long history of evolving to meet the needs of its members.