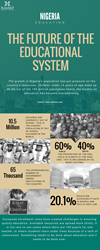 'Nigeria's population growth has put pressure on the country's resources, public services and infrastructure. With children under 15 years of age accounting for 45 per cent of the 171 million population, the burden on education has become overwhelming.' -UNICEF
LAGOS (PRWEB) April 18, 2018
Based on a recent situation report provided by UNICEF on the quality of basic education in Nigeria, it is obvious that education at the primary level needs some urgent attention by well-meaning Nigerians, private and public sectors.
"Nigeria's population growth has put pressure on the country's resources, public services and infrastructure. With children under 15 years of age accounting for 45 per cent of the 171 million population, the burden on education has become overwhelming." -UNICEF
The responsibility of returning these 10.5 million (most of which are girls) Nigerian children to school, and see them through their primary school education, cannot be left to the government alone.
One significant aspect of the tedious fight against illiteracy among our leaders of tomorrow is creating awareness about how many of them are actually out of school. That is the essence of this outreach.
One major socio-economic strength we have as a nation is our growing population. What will become of this teeming population if as at now, the number of Nigerian children who are out of school is this alarming?
Has Enrolment Dropped in Nigerian Primary Schools?
No. From UNICEF assessment of situation of basic education in Nigeria, primary school enrollment has increased in recent years, but net attendance is only about 70 per cent.
This means registering more pupils in schools has not increased the total number of Nigerian
children who successfully complete primary school education.
Increase in primary school enrollment in Nigeria can be attributed to conscious efforts by some state governments to make basic education accessible to everyone, especially at the grassroot level.
However, more needs to be done to keep these children in school.
Region with Highest Out-of-school Nigerian Children?
Primary school enrollment has increased in recent years, but net attendance is only about 70 per cent, but Nigeria still has 10.5 million out-of-school children - the world's highest number. Sixty percent of those children are in northern Nigeria. -UNICEF.
As the figure stands, more than half of out-of-school Nigerian children are from the North. Does this reflect the budget allocation to 19 states that make up Northern Nigeria?
More Nigerian Girls Are out of School. Why?
About 60 percent of out-of-school children are girls. Many of those who do enroll drop out early. -UNICEF
This shows that despite all the campaigns by NGOs and activists clamouring for empowerment of girl child across Nigeria in recent years, many of our girls are still not getting basic education.
The importance of educating girl child is quite enormous.
It is not a question of which child is more important, it is quantifying how much women influence decisions in families which make the building block of the society at large.
If 60% of out-of-school Nigerian children are girls, what kind of families do we look forward to in the nearest future? What kind of decisions will the 'educated men' make when women who mostly influence their decisions are not duly educated?
How Much Fund Is Allocated to Education?
FG, states voted 7.5% of N43tr budgets on education in 3 years. -Daily Trust
An overview of how much has been invested in education sector, primary secondary and tertiary put together, stands at 7.5% in the last 3 years.
Interestingly, 19 Northern Nigeria states where 60% of out-of-school children come from have allocated total of N1.03tr to education in 3 years. Whereas, states in Southern Nigeria have allocated total of N912.3bn.
How to Keep More Nigerian Students in School?
With these interesting figures, especially budget allocation to education by Northern states, it is obvious that everyone appreciates the importance of education in Nigeria.
But, the sector has not benefited from strong will of an average Nigerian political officeholder.
It is on the citizens, civil right groups, religious bodies and concerned corporate bodies to raise our voices individually and collectively for basic education in Nigeria to get the deserved attention.
Nigerian children deserve the best education anyone can get on the surface of the earth.
It does not matter whether a boy or girl child, it does not matter whether in the South or in the North. Nigerian children need to be duly educated!
For UNICEF, they have focused on strengthening education systems, improved and equitable access to quality basic education and improved quality of teaching and learning outcome through their various programs across the country.
However, it is everyone's duty as Nigerians to ensure that the current generation does not hand over to uneducated successor. Lend a hand to achieving this great dream of educating every Nigerian child today. Would you?
Infographics: Out-of-school Nigerian Children by SAFSMS
SAFSMS is a complete school management software that supports educationists from playgroup to post primary schools.
Our school management system is your dream school administrative system that comes with end-to-end solutions including attendance recording, accounting and many more. It is currently in use in schools in about thirty states in Nigeria.