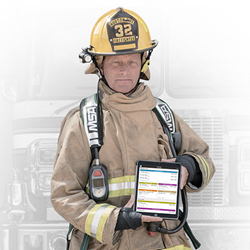 "Tracking trades is probably the biggest asset for us and the ability (for members) to see the entire schedule." -- Chief Paul Mackin, North Palos (IL) Fire Protection District.
INDIANAPOLIS (PRWEB) April 17, 2018
The 91st annual Fire Department Instructors Conference (FDIC) will be held April 23-28 at the Indiana Convention Center and Lucas Oil Stadium in Indianapolis. The event is the world's largest conference and expo for the fire/rescue sector.
Nearly 34,000 people from 58 countries attended last year.
The FDIC conference features instructors from across the globe teaching 218 classroom sessions on topics ranging from department leadership and fire scene tactics to self-care and retaining volunteers. There are outdoor demonstrations, a fun run and an expansive exhibition area with over 800 exhibitors featuring a variety of products and services -- including Aladtec scheduling and workforce management software.
Aladtec provides a cloud-based SaaS (Software as a Service) platform created specifically for Public Safety agencies. It's accessible anytime via computer, smartphone or other mobile devices with internet connectivity.
"Finding a workforce management system that's easy to use was our main focus. Aladtec is ideal because it's user-friendly for all levels of computer capabilities," said Susan Cabot, secretary with Austintown Fire Department, Youngstown, OH.
Attendees can look for River Falls, Wisconsin-based Aladtec at Booth #836. Representatives Jaimie Hammond, Ericka Hawkins, Evan Tienken, and Moriah Boldon will be on-hand to answer questions and demonstrate the software. Any visitor can arrange for a free 14-day, customized trial.
Aladtec's platform handles complex scheduling and unique rotation requirements used by many fire departments. It allows members to submit availability, request time off, and make shift trades from anywhere. The system was initially used for crew scheduling but has evolved into an all-in-one workforce management tool.
"Aladtec allows us to configure our crew schedule exactly to what we need. I save countless hours on shift trades, giveaways, and OT coverage," said Patrick Myers, Assistant Fire Chief, Lawrenceburg Fire Department, IN.
It also features certification tracking, customizable forms to which members can attach files, a document library, member discussion area, events calendar, custom reports, and an optional Time Clock kiosk.
Watch a two-minute video about how Aladtec saves the Maplewood (MN) Fire Dept. hours every week by streamlining their scheduling process. https://www.aladtec.com/customer_reports/maplewood_fire.php
More than 2,000 organizations subscribe to Aladtec's online platform with more than 125,000 people using the system daily across America and Canada.
For information about Aladtec's affordable software, or to try a free demo, visit: http://www.aladtec.com
###
CONTACT INFORMATION:
Aladtec, Inc.
387 Arrow Court
River Falls, WI 54022
(888) 749-5550 Toll-Free
(715) 690-2300 Phone
(801) 406-5550 Fax
steve@aladtec.com