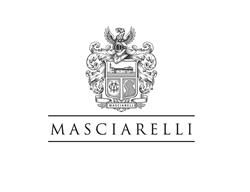 SAN MARTINO SULLA MARRUCINA, Italy (PRWEB) April 11, 2018
Italian winery Masciarelli Tenute Agricole, known as the leader in the quality and perception of wines from Italy's Abruzzo region, and national fine wine sales and marketing company VINTUS, have announced a new partnership and distribution across the United States.
Masciarelli was founded by Gianni Masciarelli in 1981, and through his vision and belief, proved that his beloved region of Abruzzo could produce wines as unique and extraordinary as any in Italy and the world over. With his wife, Marina Cvetic, and his daughter, Miriam Lee, Masciarelli worked to find distinct, extraordinary vineyards throughout the region. The winery then applied modern and rigorous vineyard management and winemaking techniques that ultimately elevated the quality and perception of Abruzzo's native Montepulciano and Trebbiano grape varieties.
"The last 35 years have been an extraordinary journey for our winery," said Masciarelli President Marina Cvetic. "We continue to pour our hearts into our wines. We are grateful that wine lovers in the United States have enthusiastically embraced our portfolio. We look forward to continuing to raise awareness of Abruzzo's culture and Masciarelli wines in the United States with Michael Quinttus and his experienced team at VINTUS."
Mr. Quinttus, Founder and CEO of VINTUS, echoed the Masciarelli enthusiasm, stating, "We are exhilarated to work with Marina Cvetic and her remarkable team at Masciarelli. Their passion for the land and the wines they produce, coupled with an unwavering pursuit of excellence, is contagious and motivating. They are one of the special wineries in the world that encapsulate a region and offer such pleasure, authenticity and complexity in their wines."
VINTUS, founded by Quinttus in 2004 in New York, is a national sales and marketing company that works with a group of leading fine wine estates from around the world. The company has been named among Wine & Spirits Importers of the Year for the past three years, as well as winning Wine Enthusiast's 2017 Wine Star Award for Importer of the Year. With this new distribution partnership, VINTUS expands its prestigious portfolio of exceptional Italian estates.
About
Masciarelli Tenute Agricole Masciarelli Tenute Agricole was established in 1981 as a result of the entrepreneurial spirit and passion of Gianni Masciarelli, who grew to become a symbol of Italian wine and protagonist of the success of modern wine production in Abruzzo. The heart of the winery is in San Martino sulla Marrucina, in the province of Chieti, but includes estate vineyards and olive groves across the four provinces of Abruzzo. There are today five distinct ranges of wines: Classic Masciarelli, Gianni Masciarelli, Villa Gemma, Marina Cvetic, and Castello di Semivicoli. After a painstaking renovation, but with respect for the environment and tradition of Abruzzo, Masciarelli unveiled the Castello di Semivicoli, a seventeenth-century baronial mansion, now a Relais de Charme luxury retreat located in the vineyards and a driving force supporting wine tourism in the area. For more information, visit http://www.masciarelli.it and http://www.castellodisemivicoli.it.
About
VINTUS, based in Pleasantville, NY, represents a diverse, international range of extraordinary wineries including: Chateau Montelena (Napa Valley), Ponzi (Willamette Valley), E. Guigal (Rhône), Champagne Bollinger, Champagne Ayala, Domaine Chanson (Burgundy), Lucien Le Moine (Burgundy), Pétrus (Pomerol), Château Margaux, Château La Fleur-Pétrus (Pomerol), Chateaux Recougne, Lyonnat & Boutisse (Bordeaux Right Bank), Langlois-Chateau (Loire Valley), Domaine des Baumard (Loire Valley), Domaine Talmard (Mâcon-Chardonnay), Tesseron Cognac, Tommasi (Veneto), Attems (Friuli), Masciarelli (Abruzzo), Sandrone (Piedmont), Casisano (Tuscany), Luce (Tuscany), Petrolo (Tuscany), Ornellaia (Bolgheri), Masseto (Bolgheri), Le Macchiole (Bolgheri), Poggio al Tufo (Maremma), Paternoster (Basilicata), Masseria Surani (Puglia), Telmo Rodriguez (Spain), Ferrer Bobet (Priorat), Quinta do Noval (Douro), Disznoko (Tokaj), Errazuriz (Aconcagua Valley), Finca Decero (Mendoza), Mitolo (McLaren Vale), Heartland (Langhorne Creek), and Dog Point Vineyard (Marlborough). For more information, visit http://www.vintus.com.
MASCIARELLI Tenute Agricole s.r.l. 66010 San Martino sulla Marrucina (Ch) - Abruzzo – Italy Via Gamberale 1 Tel:+39.0871.85241/82333 Fax:+39.0871.85330 info(at)masciarelli(dot)it http://www.masciarelli.it