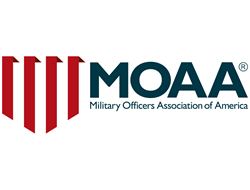 Military Officers Association of America (MOAA) is the nation's largest military officers' association with more than 350,000 members from every branch of uniformed service. MOAA is a nonprofit and politically nonpartisan organization.
ALEXANDRIA, Va. (PRWEB) April 11, 2018
Chapter and council leaders of the Military Officers Association of America (MOAA) are preparing to gather Wednesday, April 18, for the association's largest annual grassroots advocacy event: Storming the Hill. Divided into teams to visit their states' legislative delegations on Capitol Hill during the day-long event, they will set out to engage nearly all 535 senators and representatives regarding two important legislative priorities:
1) Ending reduced pay for Chapter 61 retirees. Chapter 61 retirees have been medically retired prior to reaching a 20-year service career with a disability rating of 30 percent or greater. The term "Chapter 61" comes from the corresponding chapter in Title 10 U.S. Code that covers disability retirements.
MOAA's position is that all eligible servicemembers should receive both retirement and disability compensation, which is not the case for Chapter 61 retirees. MOAA supports legislation currently introduced in Congress, in particular H.R. 333, introduced by Rep. Sanford Bishop (D-Ga.), which addresses both the Chapter 61 issue and MOAA's wider legislative priority regarding concurrent receipt.
"MOAA's long-held position is that career servicemembers earn retired pay by service alone, and those unfortunate enough to suffer a service-caused disability in the process should have any VA disability compensation added to — not subtracted from — military retired pay," says Col. Mike Barron, USA (Ret), director of currently serving/retired affairs, MOAA Government Relations.
MOAA's website has more information about its position on Chapter 61 retiree pay.
2) Maintaining military pay and benefits in order to recruit and retain an all-volunteer force. MOAA supports maintaining the military pay and benefits essential to recruiting and retaining the high-quality all-volunteer force necessary to meet the nation's security and warfighting requirements now and in the future. The president's proposed 2.6-percent pay raise, as aligned with the Employment Cost Index (ECI), is the largest in nine years, but still just keeps pace with private-sector wage growth for this upcoming fiscal year, leaving the military behind civilian wage growth by, coincidentally, the same margin — 2.6 percent. The only way to close this cumulative gap is to raise military pay above the ECI, as Congress did between 2000 and 2010.
"The move to an all-volunteer force has been successful beyond measure," says Col. Dan Merry, USAF (Ret), vice president of MOAA Government Relations. "Despite unyielding demands on our men and women from all quarters of our country and beyond, our nation's military remains peerless. We will continue to try and educate the few who believe our all-volunteer force is overpaid and can afford to bear some of the costs of readiness and other programs."
MOAA's website has more information about its position on military pay.
Media inquiries
Follow MOAA's online coverage of Storming the Hill 2018, including news updates, photos, videos, and more. For live updates on the day's events, follow MOAA on Instagram at @MOAAStorms or on Facebook. Supporters of the event — on the ground and at home — will address tweets @Military Officer and @MOAAStorms, using the hashtag #WhyIStorm and #MOAAStorms.
MOAA members from all 50 states will participate. To contact a member from your state or hometown, please contact Alan English at pr@moaa.org.
ALABAMA
Gadsden
Vestavia
ALASKA
Anchorage, Ala.
ARIZONA
Flagstaff
Green Valley
Litchfield Park
ARKANSAS
Little Rock
CALIFORNIA
Alameda
Carlsbad
Coronado
San Diego
COLORADO
Aurora
Sioux Falls
CONNECTICUT
Avon
DELAWARE
Dover
FLORIDA
Bradenton
Royal Palm Beach
Sarasota
Sebring
GEORGIA
Martinez
Sparta
HAWAII
Honolulu
IDAHO
Mountain Home
ILLINOIS
Decatur
O'Fallon
INDIANA
Carmel
Mooresville
IOWA
Cedar Falls
KANSAS
Westwood Hills
KENTUCKY
Lexington
LOUISIANA
Abbeville
MAINE
Lake Suze
Woolwich
MARYLAND
Bel Air
Berwyn Heights
Laurel
Rockville
Sykesville
MASSACHUSETTS
Hingham
Leominster
Woburn
MICHIGAN
Traverse City
MINNESOTA
Duluth
Saint Paul
MISSISSIPPI
Starkville
MISSOURI
Springfield
MONTANA
Missoula
NEBRASKA
Papillion
NEVADA
Incline Village
NEW HAMPSHIRE
Bow
NEW JERSEY
Ewing
NEW MEXICO
Rio Rancho
NEW YORK
Buffalo
Farmington
Johnson City
NORTH CAROLINA
Cary
Lewisville
Salisbury
Southern Pines
NORTH DAKOTA
Fargo
OHIO
Akron
Boardman
OKLAHOMA
Blanchard
OREGON
Portland
Powell Butte
Redmond
PENNSYLVANIA
Carlisle
Greensburg
RHODE ISLAND
East Greenwich
SOUTH CAROLINA
Aiken
SOUTH DAKOTA
Rapid City
Watertown
TENNESSEE
Brentwood
Nashville
TEXAS
Bulverde
Granbury
Plainview
Plano
San Antonio
Wichita Falls
UTAH
Saint George
VERMONT
Burlington
VIRGINIA
Alexandria
Annandale
Gloucester Point
Stafford
Suffolk
Williamsburg
WASHINGTON
Camas
WEST VIRGINIA
Charleston
WISCONSIN
Mount Horeb
WYOMING
Cheyenne
About MOAA:
Military Officers Association of America (MOAA) is the nation's largest military officers' association with more than 350,000 members from every branch of uniformed service, including active duty, retired, National Guard, Reserve, and former officers and their families and survivors. MOAA is a nonprofit and politically nonpartisan organization and an influential force in promoting a strong national defense. MOAA represents the interests of service members and their families in every stage of their lives and careers. For more information, visit http://www.moaa.org.