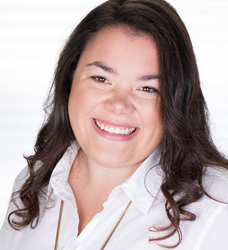 DOYLESTOWN, Pa. (PRWEB) April 11, 2018
Furia Rubel Marketing and Public Relations, an award-winning, integrated marketing and public relations agency, is pleased to announce that Caitlan McCafferty has been promoted to public relations account director.
In her new role, McCafferty continues to support the implementation of communications strategy for all clients' public relations, media relations, crisis communications, marketing and social media.
"Caitlan is a vital part of the Furia Rubel team and has become a trusted advisor to our wide range of professional services clients," said Gina Rubel, the agency's President and CEO. "In particular, she has become a go-to resource for the national legal media, working with leading journalists nationwide on stories involving today's top legal trends."
McCafferty's priorities at Furia Rubel include writing, pitching, and coordinating with the media throughout the United States. She has landed Furia Rubel clients in various publications around the country, including the Portland Business Journal, the San Francisco Chronicle, Philadelphia Business Journal, Lehigh Valley Business, The Philadelphia Inquirer, Bucks County Courier Times, and national broadcast outlets and their local affiliates including ABC, CBS, NBC, Fox and NPR.
She also is involved with various nonprofits and professional associations including Bucks County's A Woman's Place, Young Friends of the Historical Society of Pennsylvania, the Philadelphia Public Relations Association, and the Philadelphia chapter of the Public Relations Society of America.
McCafferty is a lifelong resident of Bucks County, living in Newtown Township. She earned a bachelor's degree in history and communication studies before going on to earn a Master's of Strategic Communication from American University.
Furia Rubel Communications, Inc. is an integrated and strategic marketing and public relations agency based in Bucks County, Pa. The certified woman-owned agency provides strategic planning, marketing, public relations, media relations, graphic design, website design, content marketing, blog production and social media services to a wide array of professional clients. Furia Rubel represents law firms, technology companies, educational organizations, accounting firms, nonprofits, municipalities, and manufacturing, behavioral health and elder care organizations. For more information, visit http://www.furiarubel.com or follow on Twitter at @FuriaRubel.
# # #