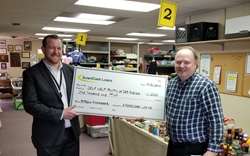 The greater mission of AmeriCash Loans is to be an active member in the diverse communities it serves, and this spring cleaning fundraiser aligns with that mission.
DES PLAINES, Ill. (PRWEB) April 13, 2018
AmeriCash Loans decided to use spring cleaning as a fundraising opportunity for a local food pantry. During the Spring Cleaning Fundraiser, AmeriCash Loans sold excess items such as t-shirts, polos, water bottles, hoodies and pens among other items, which were all branded with either AmeriCash Loans or its subsidiaries, CreditBox and Speedy Loans. Everything was priced anywhere from a few cents to the top item costing five dollars. Not only was the money raised donated to the local food pantry, but the company decided to match the amount, doubling the donation. The money will go to feed individuals and families in need to neighbors of AmeriCash Loans in the Des Plaines area.
"The Self-Help Closet & Pantry of Des Plaines is most grateful to AmeriCash Loans for this generous donation," said Debra Walusiak, SHC&P Executive Director. "Since 1971, our food pantry has relied on the support of local businesses and other community members to assist our neighbors in need, and this donation certainly will enhance our efforts."
The greater mission of AmeriCash Loans is to be an active member in the diverse communities it serves, and this spring cleaning fundraiser aligns with that mission. The company continually strives to positively impact the families in the neighborhoods around its 59 store locations in Illinois, Missouri, South Carolina, and Wisconsin. The spring fundraiser is the latest support effort in a line of kid's sports, local parks, and local events sponsorships.
Over the holidays, AmeriCash Loans made their largest donation yet to Comer Children's Hospital and that spirit of giving has carried over into the beginning of 2018. In January, AmeriCash Loans held a food drive where community members could come to any of its five Milwaukee-area AmeriCash Loans locations to donate new, sealed jars of peanut butter to go directly to those less fortunate in the area. As spring rolls around, the lender will sponsor several dozen little league baseball teams across Illinois, Missouri, Wisconsin, and South Carolina. Through the summer and fall months, the company will continue to support parks foundations and local organizations in events that enrich the surrounding communities and bring delight to its families and children.
The Self-Help Closet Pantry of Des Plains accepts donations year-round. If you'd like to see an updated list of their current donation needs, or if you would like to volunteer, you can visit their website, https://sites.google.com/view/closet-pantry-of-des-plaines.
About AmeriCash Loans
Founded in 1997, AmeriCash Loans is a leading provider of alternative consumer financial services throughout the metropolitan Chicago area and Illinois. It started as a small office across from the train station on the main street of Des Plaines. Within five years of opening its doors to borrowers, it had expanded to 65 brick-and-mortar branches located in Illinois, Wisconsin, Missouri, and South Carolina.
Today, the company provides short-term financial products that allow borrowers to access larger loan amounts for longer terms and at lower rates than traditional cash advance loans. Its short-term lending portfolio is comprised of installment loans, signature loans, and other related financial services. In 2003, AmeriCash Loans launched the Refer-a-Friend program, which gives its customers a chance to earn while sharing their great customer experiences with their friends and family members.
Customers can apply for loans either personally or through its online application process. Contact AmeriCash Loans via its website, http://www.AmeriCashLoans.net, or by calling 888.907.4227.