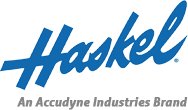 Burbank, CA (PRWEB) April 12, 2018
Haskel, a leading manufacturer of high-pressure products, will share its newest advancements in hydrogen technologies at the Hannover Messe Hydrogen, Fuel Cells and Batteries Group Exhibit in Germany, April 23-27.
Haskel has established its leadership in the hydrogen market, remaining highly invested in compression technology research as well as research on the hydrogen refueling process, one of the most challenging aspects of fuel cell technology. The company's commitment to hydrogen innovation is evident through its:

Participation in the H2Ref project through Europe's Fuel Cells and Hydrogen Joint Undertaking.
Newly designed vessel technology to mitigate hydrogen embrittlement, created in conjunction with the U.S. Army as part of a Collaborative Technology and Research Alliance.
Upcoming launch of the new Hydrogen Test Center in Sunderland, UK, which is only the second facility worldwide capable of testing hydrogen.
Formation of a Global Hydrogen Systems Group, a team solely focused on the development of hydrogen technologies.
Manufacture of complete hydrogen refueling stations actively running in Europe.
To fit the needs of the hydrogen market, Haskel's engineers have designed application-specific products. The company's new-generation hydraulic-driven gas booster, H-Drive, which was officially launched at last year's show, is a primary example of Haskel's focus on hydrogen-specific innovation. The H-Drive's design allows for safe performance in a wide range of demanding high-rate, high-pressure gas compression and transfer applications.
Each advancement Haskel makes in hydrogen technology accounts for future developments in the market and maintains the company's focus on user safety. The rapid growth of the hydrogen market has been propelled by the attention on clean energy by organizations worldwide. Haskel's reputation for safe and reliable equipment, coupled with its proven track record in hydrogen application design, has created an ideal opportunity for success.
With the positive response to last year's reveal of the H-Drive, Haskel is excited to share more about its latest projects with Hannover Messe attendees. The show is one of the largest and most renowned events in the industry, creating a great opportunity to share insights with leading professionals about high-quality compression and control equipment.
To learn more about Haskel's newest work in hydrogen compression technology or any of its high-pressure products, visit them at Stand D70, Hall 27 during the Hannover Messe Hydrogen, Fuel Cells and Batteries Group Exhibit, April 23-27. If you will not be attending the show but would like more information, contact a Haskel representative by visiting http://www.haskel.com/contact-us/.
About Haskel
With over 70 years of unrivaled expertise in high-pressure liquid and gas transfer and pressurization technology, Haskel is the solution provider for applications in aviation, defense and aerospace, oil and gas and other critical industries. Haskel meets complex and critical challenges with innovative solutions that ensure safety, reliability and the highest quality. As the clear market leader in high-pressure pumps, Haskel products are made to fit customer needs and market demands. Whether working in oil and gas, automotive and defense or extracting cannabis oil in the emerging medical market, every Haskel product provides the performance that is expected from a global leader.