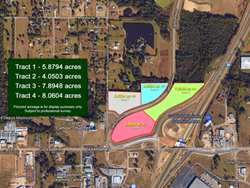 GLUCKSTADT, Miss. (PRWEB) April 12, 2018
May 22, 2018 (Gluckstadt, MS) – Taylor Auction & Realty, Inc. will be offering 25.88+- Acres in 4 Tracts at a live auction event taking place on Tuesday, May 22, 2018 @ 12 Noon. The sale will be conducted at the Embassy Suites Jackson North, Ridgeland, MS to facilitate the liquidation of properties of U.S. Bankruptcy VCR I, LLC Case No: 12-02009-EE.
The properties, located on Calhoun Parkway, Exit 112 off I-55 in Gluckstadt, Mississippi, will be sold in 4 tracts. Zoned C-2 according to the "Madison County Zoning Map", the parcels offer many potential uses for commercial operations. This bankruptcy auction provides a great opportunity for real estate developers and investors.
The tracts break down as follows:

Tract 1 - 5.8794 Acres (256,109.44 Sq. Ft.)
Tract 2 - 4.0503 Acres (176,430.05 Sq. Ft.)
Tract 3 - 7.8948 Acres (343.898.26 Sq. Ft.)
Tract 4 - 8.0604 Acres (351,112.25 Sq. Ft.)
For more information regarding the property, photos, and the complete terms of the sale, visit the Taylor Auction & Realty, Inc. website at: https://www.taylorauction.com/project/details/24401/
About Taylor Auction & Realty, Inc.
Taylor Auction & Realty, Inc. is a bonded and insured, full service auction, real estate and appraisal corporation. Our officers are in tune with the environment of the real estate and personal property market. As Certified Auctioneers, Benny and Ruthie are educated in forward thinking solutions and objectives to support their clients' goals. #NAApro #tauctionrealty #taylorauction #auctionswork
For more information on this property, or to schedule an inspection appointment, please contact Benny Taylor at 662-226-2080 or 662-417-0397, or benny@taylorauction.com.