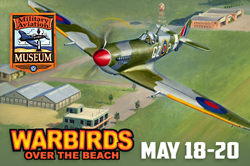 VIRGINIA BEACH, Va. (PRWEB) April 12, 2018
Virginia Beach skies will once again be alive with the sight of flying vintage aircraft for the Military Aviation Museum's Annual Warbirds Over the Beach Air Show, held Friday, May 18 through Sunday, May 20 at the Military Aviation Museum in Virginia Beach. The weekend boasts a real 1940s atmosphere with entertainers, re-enactor encampments, a military flea market, hangar dance and more!
The museum's large collection of World War II aircraft fly all three days (weather permitting), featuring iconic American classics such as the P-51 Mustang and the Corsair, the British Spitfire and Hurricane, along with one of the newest additions to the museum's collection, a German Messerschmidtt Bf-109. Airshow festivities take-off on Friday, with practice flights throughout the day from many of the aircraft participating in the show, along with re-enactor camp set up. Saturday and Sunday will feature a variety of entertainers to include Theresa Eaman, a nationally known jazz artist, and the New York based America's Sweethearts. A military flea market will offer aviation-themed treasures and local vendors will be ready to serve up some tasty cuisine. A hangar dance headlines Saturday afternoon, complete with live big band music compliments of the Mark Michielsen Big Band.
For the full experience, guests can ride in an authentic World War II aircraft. The museum's 1941 Boeing Stearman and 1989 Waco YMF-5 will be available for 15-minute rides. Rounding out the options for plane rides will be Bay Aviation, offering flights in their Fairchild PT-19. All rides are subject to weather conditions and prior reservations are strongly recommended. Rides may be booked by visiting http://www.VBAirshow.com.
Admission to the show also offers access to the rest of the Military Aviation Museum historical exhibits, such as their WWI and German Cottbus hangars, as well as a control tower from the first American fighter base in England in 1942, reconstructed using actual bricks from the original tower that was in operation at RAF Goxhill, during WWII.
Tickets are available online for a discounted rate of $27 per adult single-day admission and $14 youth single-day admission, now through April 30. Beginning May 1, tickets will be sold at the full price of $30 per adult single-day admission and $15 per youth single-day admission. For more information and to purchase tickets, call 757-721-7767 or visit http://www.VBairshow.com.
About the Military Aviation Museum:
A 501 ©(3) not-for-profit organization, the Military Aviation Museum is home to one of the world's largest collections of First and Second World War, and Korean War era fighters, bombers and trainers. Each airframe has undergone painstaking restoration, using original components, whenever possible. Truly a living museum, aircraft are in restoration at facilities around the world. Besides the main Museum, the Virginia Beach complex features additional structures, including the 1934 Luftwaffe Hangar, originally from Cottbus, Germany, which now serves to house the Museum's collection of WWII-vintage German aircraft. Additional hangar spaces include the WWI Hangar, in which resides the Museum's genuine 1918 Curtiss JN-4D "Jenny", besides other aircraft of the period. Visit http://www.MilitaryAviationMuseum.org for more information or call 757-721-7767.