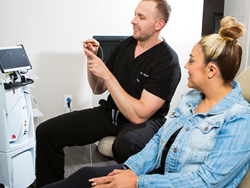 PACIFIC PALISADES, Calif. (PRWEB) April 12, 2018
Dr. Max Moncayo of Palisades Surgical Arts is now certified in the LAPIP™ protocol for ailing dental implants. Dr. Max is on the leading edge of oral surgery, treating patients with a minimally invasive laser treatment with favorable and predictable results to save their implants and help regrow bone lost to peri-implantitis.
"Dental implants are an important investment for patients, and some may experience problems with them after a few years," states Dr. Max. "The LAPIP protocol gives me a minimally-invasive approach to help patients save their investment and preserve gum tissue height."
The LAPIP protocol is a first line treatment approach for failing implants or peri-implantitis as it addresses the underlying causes affecting the health of both the bone and the implant, gum disease. A fiber the width of 3 human hairs is inserted between the implant and the gum. Laser energy kills bacteria, vaporizes cement, and stimulates stems cells found in your bone to reduce the bacterial infection and promote healing.
Palisades Surgical Arts is constantly striving to give their patients the finest surgical care possible. They understand that using updated technology leads to more informed decision-making, allowing patients to make the best possible decisions about their oral health. Dr. Moncayo and his team are experienced in performing a full spectrum of oral surgery procedures. They also work in conjunction with The Palisades Dentists, led by Dr. Max's wife, Dr. Cerisa Moncayo, a general dentist who is certified in the LANAP® protocol for gum disease treatment.
For information on the LAPIP protocol, call Palisades Surgical Arts at (424) 346-0955 for an appointment.
About Dr. Max
Dr. Max Moncayo began his journey in dentistry and medicine at Cal Poly Pomona. While being a multiple year Dean's List science scholar, he received summer scholarships to attend the University of Michigan in dental/medical related advancement before deciding to direct his future education to dentistry.
In 2001 his childhood dream of serving his country was realized when he was commissioned as a Naval Officer and given the opportunity to continue his education at the UCLA School of Dentistry. During his training, Dr. Moncayo found a love for facial and oral surgery and decided to focus on the Oral and Maxillofacial Surgery specialty. Palisades Surgical Arts has been Dr. Moncayo's dream—to provide world class surgical care by combining a passion for state of the art treatments and compassion from experiences that few have achieved.