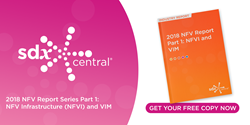 This includes examining new open architectures, looking into containers vs VMs, x86 vs ARM and the role of HW and SW acceleration of I/O traffic.
SAN FRANCISCO (PRWEB) April 17, 2018
SDxCentral.com announces the availability of a new report: 2018 NFV Report Series Part 1: NFV Infrastructure (NFVI) and VIM.
Since ETSI and the world's leading communications service providers (CSP) launched the ETSI ISG for NFV (Network Function Virtualization) in early 2013, the world of network functions virtualization (NFV) continues to mature and expand. NFV is now an established open architecture for distributing network-centric applications targeted at the business and communications markets.
NFV-based networks provide the foundation for many leading-edge solutions, such as 5G offerings, and require specialized management and infrastructure tools to drive new these services. Our 2018 NFV reports series will cover a wide range of topics, from industry-standard commercial off-the- shelf (COTS) hardware as NFV Infrastructure (NFVI), to hypervisors and the Virtualized Infrastructure Managers (VIMs), to Virtual Network Functions (VNFs) and the management and orchestration (MANO) necessary to deploy these functions.
The first report in the series, the NFVI and VIM report, focuses on hardware and software resources that make up an NFV platform. This includes examining new open architectures, looking into containers vs VMs, x86 vs ARM and the role of HW and SW acceleration of I/O traffic. It also covers the VIM due to the important role of the VIM in resource management of the NFVI. The report delves into SDxCentral's view on whether Kubernetes will take the place of OpenStack, whether ARM has a chance in beating Intel in NFVI, and other key developments in the NFVI space.
The report also includes results from a survey conducted by SDxCentral's research team with select members of the SDxCentral community. This report is complimentary and available for download at SDxCentral.com. Vendors who are interested in participating in future versions of this report or other reports published by SDxCentral.com can contact us at https://www.sdxcentral.com/inquiry/research/.
SDxCentral will also be shortly launching NFV Report Part II, which focuses on MANO, orchestration and assurance as well as Part III, which will cover virtual network functions (VNFs), the specific software applications that run on the NFVI.
Report Table of Contents
Executive Summary
Introduction
-NFV, NFVI and VIM Primer
-Brief History of NFV: Role of the ETSI ISG
-NFVI – Role of NFV Infrastructure
-NFVI - Virtualization Layer
-NFVI - Virtual Infrastructure
-NFV VIM - Virtualized Infrastructure Manager
Organizations Accelerating NFVI and VIM
-ETSI
-Open Compute Project
-Linux Foundation
-Open Networking Foundation
-Telecom Infra Project (TIP)
Common NFVI and VIM Architectural Deployments
-Centralized Cloud
-Core DC + Edge
2018 NFVI and VIM Market Update and Trends
-Server and Compute Market – Driven by Cloud
-Servers: Standard x86 Still the Foundation of NFVI
-Edge NFVI deployments – the New Battleground for Intel, AMD, ARM
-ARM, Alternative Architectures and HW Accelerators
-Storage Hardware – Going Open
-Switches: Proprietary versus Bare Metal + Open Software
-Virtualization and the VIM Updates
-VMs vs Containers, VMs with Containers?
2018 SDxCentral NFVI and VIM Reader Survey
2018 NFVI and VIM Report Conclusion
2018 NFVI and VIM Products
Covered Companies and Organizations
6WIND, ADVA Optical Networking, AT&T, Canonical/Ubuntu, Cavium, Inc., Ciena, Cisco, Dell EMC, Enea Software, Ericsson, Hewlett Packard Enterprise (HPE), Huawei, Intel, Lenovo, Linux Foundation, Mellanox Technologies, Mirantis, Netronome, Nokia, Radisys, Red Hat, Telco Systems, VMware, Wind River, and ZTE Corporation.
About SDxCentral
Launched in 2012, SDxCentral.com is the fastest-growing and leading B2B digital media company for Cloud, Enterprise, and Telecom IT Infrastructure. SDxCentral serves an audience of over 200,000 unique monthly audience members generating over half-a-million page views a month. The site provides cutting-edge coverage of software-defined infrastructure including 5G, IoT, Edge Computing, SDN, NFV, Cloud, Containers, Security and AI/Machine Learning and connects technology buyers with its clients in the most effective way. SDxCentral's client list reads like the who's who of technology infrastructure, ranging from leading Fortune 50 companies to rapidly growing startups looking to revolutionize software infrastructure.